Death toll rises to 14 in Spain terror attacks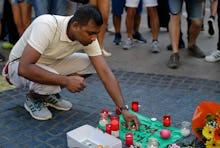 The death toll has risen to 14 after pair of terror attacks in Spain, the BBC reported on Friday, citing information from the U.K. Foreign Office. At least 13 people were killed in the popular pedestrian-heavy area of Las Ramblas in Barcelona when a van plowed into a crowd, leaving a trail of carnage and chaos in its wake.
An additional victim died as a result of a second incident on Thursday, in the coastal town of Cambrils, some 70 miles southwest of Barcelona, where an Audi A3 rammed into another crowd, the New York Times reported on Friday.
The five people in that vehicle exited it, armed with knives, according to the Times, but all five were fatally shot by Spanish police before carrying out any further violence.
According to the Times, seven people were injured in the attack in Cambrils, and at least 80 were injured in the attack in Barcelona. The Islamic State group claimed credit for the Barcelona attack, the Times reported, but so far has not taken credit for the attack in Cambrils.
As of Friday morning, three suspects had been detained in connection with Thursday's violence, according to the Times, but authorities are reportedly still searching for the driver of the van in the Barcelona attack.
Just before noon on Friday, people gathered in Barcelona's central square, chanting "the people together will not be beaten," and "we are not afraid," in Catalan as church bells rang out, the Times reported.