'Overwatch' Update: Reporting function on PS4 and Xbox One consoles coming in next patch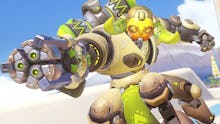 The days of feeling entirely powerless as some snotty brat hurls offensive slurs at you through Overwatch voice chat are coming to an end — hopefully.
Game director Jeff Kaplan just confirmed that the long-awaited reporting function for consoles — a feature players have been asking for since Overwatch came out last year — is going live in the next big patch update.
Overwatch console reporting feature coming in patch 1.14
"Reporting on console will be available when patch 1.14 goes live (the patch that has [Deathmatch] and [Team Deathmatch] and is currently on the PTR for testing)," Kaplan wrote on the Overwatch forums. "Thanks for being so patient with us."
In Overwatch's current build, players on PS4 and Xbox One have no way to report toxic in-game behavior. However, players on PC who have had this function since launch seem doubtful about its effectiveness — hence a recent effort on Blizzard's part to overhaul the way it deals with abuse reports.
"It's important to note the reporting system and punishments are very much an ongoing development for us," Kaplan wrote. "Improvements will continue over time. We are working on increased punishments for high frequency offenders, email notifications when your reports result in disciplinary action (We're experimenting with this right now and we'll expand this as we refine it) and eventually notifications in the game client when your report results in disciplinary action."
Kaplan didn't say when this patch would go live, but it'll likely be in the next couple of weeks.
More Overwatch news and updates
For more on Overwatch, check out the rest of what Mic has to offer. Here is an article about why popular Overwatch streamers are jumping ship to PlayerUnknown's Battlegrouns, a story from the Overwatch voice cast about recording their character's death sounds, a deep dive into the fandom's theories on what the heck "SAMF" stands for, and a look at one fan's gorgeous, minimalist animations based on each Overwatch character.