The numbers behind America's deep divide over Donald Trump and white supremacy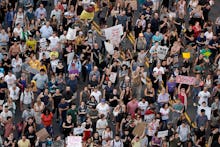 This is Mic's daily read on Donald Trump's America.
Want to receive this as a daily email in your inbox? Subscribe here.
What we're watching:
Today: A majority of the country opposes Trump and his actions this week.
More: But the president's base is still with him: A quarter of the country says they will never stop supporting him.
Even more: The president tweeted a falsehood about how an American general dealt with Muslim extremists.
Yes, more: Trump doubled down on his support of Confederate monuments, despite nearly a dozen coming down since Charlottesville.
Trump's agenda today: Traveling to Camp David. Meeting with the National Security Council. Traveling back to Bedminster, New Jersey.
A nation deeply divided over white supremacy
The fallout from President Donald Trump's comments on Tuesday is now in plain sight.
First, the bad news for Trump: A majority of the country believes his response to the violence in Charlottesville, Virginia, did not go far enough. In one poll, as many as 55% of Americans said they disapproved of Trump's responses.
Support for impeachment is growing — barely half of Americans now believe Trump should not be impeached, a large decline from earlier this year. Polling also found more Americans believe Trump's words are fomenting racial division, not unity. And most surveys still show his approval rating under 40%.
Trump is also facing his strongest criticism yet from Republicans. With Democrats largely sidelined, enjoying the intra-party feud, Sen. Bob Corker (R-Tenn.) said Trump lacked the stability and confidence to govern.
Sen. Tim Scott (R-S.C.), the only black Republican in the Senate, said Trump has lost the president's moral authority. Grassroots groups are pressuring Republicans, particularly in the House, to go a step further in critiquing their party leader.
But Trump still has his all-important base. It's shrinking. It won't get health care or tax reform passed in Washington. And it won't keep the government open. Yet Trump continues to find support among many Republicans.
Fifty-nine percent of Republicans found Trump's statement on Charlottesville "strong enough." Another 22% were unsure. Another survey found 77% of Trump voters believe the president "did do enough" to condemn white nationalists. And 58% of those voters believe the president opposed white nationalism.
In fact, more than 6 in 10 Trump supporters say there's nothing he can do that would make them withdraw their support for him. That's about a quarter of all Americans. Furthermore, there are substantial percentages — though nowhere near majorities — of Americans who could be open to the message of the alt-right or white nationalists.
That swath of the country is still a political constituency with considerable currency going into 2018. And many do not find fault in Trump's comments Tuesday. In fact, the group that is most likely to stick by Trump's side — white evangelicals — are often a force in low turnout elections, boosting Republicans. Perhaps that's why, despite a firestorm of criticism within his own party, Trump has doubled down on his remarks since Tuesday.
Trump tweets Thursday
Trump reiterated his support for the preservation of Confederate monuments. "The beauty that is being taken out of our cities, towns and parks will be greatly missed and never able to be comparably replaced!" Trump tweeted.
Trump also endorsed a long-debunked falsehood about a U.S. general and his treatment of terrorists. A fabricated story claimed Gen. John Pershing, an American military commander in World War I, shot Muslim terrorists with bullets dipped in pig's blood. That is not true. "Study what General Pershing of the United States did to terrorists when caught. There was no more Radical Islamic Terror for 35 years!" Trump tweeted.
News and insight you cannot miss:
Worth noting: Robert E. Lee was opposed to monuments memorializing the Civil War. We've now identified 44 movements nationwide that have removed or are pushing to remove Confederate monuments on public land.
Democrats are also calling for Confederate statues in the U.S. Capitol to be removed. Here's one argument on why those monuments are about white supremacy, not history.
Tech giants are facing increased scrutiny and criticism. Will that turn into serious checks on how they operate?
Watch this Holocaust survivor's message to white supremacists.