Meet the woman chronicling the ubiquity of Zara's blue off-the-shoulder dress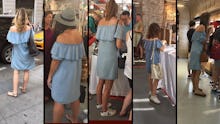 The premise of this blog is not overly intellectual: There's this blue off-the-shoulder dress from Zara that is seemingly ubiquitous. Dakota Fanning is a fan. As is Nicky Hilton. Also a fan: Comedian Lulu Krause, who noticed the omnipresence of the dress, started photographing the burgeoning phenomenon, and then created the appropriately named Tumblr "The Blue Off-the-Shoulder Dress From Zara."
The idea, according to Krause, came together organically last summer. "I started noticing the dress all over New York City," Krause said. "After seeing it frequently enough, I began to record my sightings with no intention of ever sharing them with anyone other than my close friends — who were often with me when I had to drop everything and snap a shot." 
She assumed the trend would die down — until this past June, when she again spotted a woman wearing the dress in her neighborhood. "At that point, I decided to share my photos on Facebook and almost immediately, friends were sending their own sightings my way." In early August, she moved the collection to a blog, where she added captions "to really tell the narrative of the blue off-the-shoulder dress," she said.
Currently there are 50 shots on the site, all taken by Krause or sourced from friends. But a backlog of around 80 shots not yet posted promises that the blog won't lie fallow any time soon.
"The piece is easy to wear — I think that's the key," Krause said. However, her own experience was a little more encumbered. "A friend actually lent me the dress so I could take a test drive, at which point my [other] hypothesis was confirmed: The dress limits mobility by about 80% (is it possible to measure clothing-mobility quantitatively? I don't think so.). You can't raise your arms which means you can't yawn like this. Very sad."
While the dress itself is no longer available via Zara, iterations of the dress are everywhere on sites like Poshmark and Lulus. You know what that means? There's still time to get featured.