Maryland quietly removes statue of judge who defended slavery from State House grounds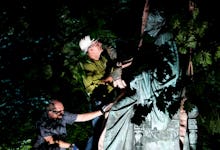 Around 2 a.m. Friday, a crew worked under the cover of darkness to quietly remove a statue of slavery defender and U.S. Supreme Court Chief Justice Roger B. Taney from the grounds of the Maryland State House in Annapolis, CBS News reported.
Taney was the Supreme Court justice who wrote the 1857 majority opinion in the Dred Scott case, a ruling that upheld slavery and denied citizenship to black people in the U.S. That ruling has been criticized as one of the worst in Supreme Court history.
The statue's removal occurred just days after Baltimore Mayor Catherine Pugh ordered Confederate monuments in the city to be taken down in the middle of the night.
The decisive action from Pugh and other leaders comes in the wake of Saturday's deadly white supremacist gathering in Charlottesville, Virginia, which centered around a statue of Confederate Gen. Robert E. Lee.
On Tuesday, Maryland Gov. Larry Hogan called for the removal of the statue from State House grounds, the Baltimore Sun reported, saying in a statement that "the time has come to make clear the difference between properly acknowledging our past and glorifying the darkest chapters of our history ... I believe removing the Justice Roger B. Taney statue from the State House grounds is the right thing to do, and we will ask the State House trust to take that action immediately."
On Wednesday, three of four voting members of Maryland's State House trust decided in favor of moving the statue.