Model Harnaam Kaur, known as the Bearded Lady, lands a beard oil campaign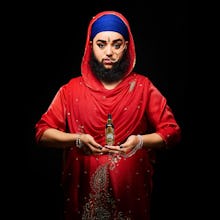 In just the past few years, model and activist Harnaam Kaur — also known as the "Bearded Lady" — has proven that there's simply no stopping her quest to challenge today's beauty standards.
In 2015, she became a representative for #EffYourBeautyStandards. In 2016, she walked in her first fashion show in London, becoming the first woman with a beard to do so. Later that same year, it was announced she held the world record for youngest female with a full beard, landing her in the 2017 Guinness Book of World Records for the facial hair that started growing when she was just 11 as a result of the hormonal disorder polycystic ovary syndrome.
Now she's fronting her own campaign for beard oil, collaborating with the grooming company Captain Fawcett on an elixir meant to nourish beard hair. In the campaign, Kaur, who has more than 83,000 followers on Instagram, is shown wrapped in a sari and wearing a turban, holding a bottle of elixir that includes a blend of "four nourishing and smoothing base oils" as well as scents.
"The bearded world can be dominated by men. I stand as a bearded lady breaking barriers and standards about what male or female traits are," Kaur said in an interview with Mic. "This oil is universal."
When Captain Fawcett, which had previously only used male models, posted about Kaur's campaign on its Instagram, people were stoked. "This has genuinely uplifted my day," one commenter wrote.
"I wanted to create a beautifully perfumed nourishing hair elixir that worked on both hair and beards, reflecting the way I put my own twist on how to use favorite products," Kaur said in a press release. "There are hints of vanilla and labdanum with cedar and lime, and we spiced that up with piquant black pepper and West Indian bay rum to give it an edge, a bit more force to invigorate the oil's soothing qualities."
Kaur had a hand in designing the actual bottle as well.
"The bottle's mandala design was very important to me. It's a symmetrical geometric circular pattern symbolizing the layers of the universe, representing wholeness, perfection and eternity with humanity connecting at the center, so exactly right for a universal scent created for everyone and anyone," Kaur said. "The mandala also represents the Third Eye, or the mind's eye, which I love because the oil is made to be worn on the head, whether hair or beard, and so that felt very fitting, too."
In addition to this campaign, Kaur has been keeping busy as an anti-bullying activist, starring in various campaigns over in the U.K. and speaking at the Houses of Parliament to promote positive body image and mental health.
As Kaur said after she walked her first runway show: "I was laughed at when i said I wanted to model. Jokes on my bullies."
Aug. 21, 2017, 8:44 a.m.: This post has been updated.