Speculation grows about Gary Cohn's future in administration after Trump's Charlottesville remarks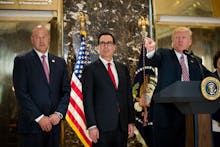 The White House future of Gary Cohn — director of the National Economic Council — has been the subject of speculation in the wake of outrageous remarks by President Donald Trump on the violent white nationalist rally that left one dead and several injured in Charlottesville, Virginia, last weekend.
Cohn — who is Jewish — was standing behind the embattled president on Tuesday as he drew a moral equivalency between the white nationalists, including neo-Nazis, who descended on Charlottesville Saturday and those who were there to protest against them.
"What about the alt-left that came charging at the, as you say, the alt-right? Do they have any semblance of guilt?" Trump said, noting that some "very fine people" were among the white supremacists protesting the planned removal of a Confederate statue in the college town. "I think there is blame on both sides. And I have no doubt about it."
The former Goldman Sachs head was immediately said to have been "disgusted" and "upset" by the stunning remarks, leading to rumors that he may be considering leaving the administration.
Wall Street reeled at the possibility, which one expert warned would "crash the markets."
Cohn to stay in Trump administration — for now
Cohn will reportedly remain in the administration as Trump's top economic adviser.
But it isn't clear if Cohn, frustrated with the president and beset by White House feuding, will stay for the long haul, the Washington Post reported Thursday.
"I have encouraged him, encouraged him to leave before it became too late," a former Goldman Sachs colleague of Cohn told the Post.
Cohn quarterbacks Trump's economic team and has been rumored to be in line to chair the Federal Reserve. But he's long been seen as "at odds" with others in the administration — and was cited as a rival by White House chief strategist Steve Bannon in a candid interview with the American Prospect.
"We're still fighting," Bannon told the progressive magazine. "There's Treasury and [National Economic Council chair] Gary Cohn and Goldman Sachs lobbying."
The speculation about Cohn's potential departure sunk the Dow to its lowest point in three months, CNBC reported, but assurances from the White House that the NEC chair will stay have apparently soothed concerns.
Still, Trump's inflammatory comments have cast doubt Trump's ability to enact his economic agenda, according to CNBC.
A number of CEOs resigned from Trump's business councils following his defense of white nationalists, leading the president to announce he plans to disband the advisory panels.
Trump has faced a torrent of backlash for his comments on the Unite the Right rally that left Heather Heyer, 32, dead. Many have noted that Jewish members of the administration — including Cohn, Treasury Secretary Steve Mnuchin and adviser Jared Kushner, the president's son-in-law — have been silent on the remarks.
Adviser Ivanka Trump, who converted to Judaism, tweeted on Sunday that "there should be no place in society for racism, white supremacy and neo-nazis" — groups her father did not call out until Monday.
Some have even called for Jewish members of the Trump administration to resign in protest.
But according to the Post, a number of those close to Cohn urged Trump to stay on, reportedly calling him "our last hope."
"A very solid stabilizing force in the West Wing will be lost," Camden Fine, chief executive of the Independent Community Bankers of America, told the Post. "Bottom line — not good."