Mitt Romney slams Trump for Charlottesville response in latest Republican rebuke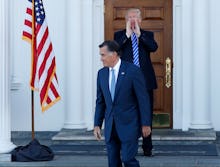 Mitt Romney became the latest Republican to repudiate President Donald Trump for blaming "both sides" for the violence that erupted at a white nationalist rally in Charlottesville, Virginia, on Saturday, saying his inflammatory remarks "caused racists to rejoice, minorities to weep and the vast heart of America to mourn."
"His apologists strain to explain that he didn't mean what we heard," Romney wrote in a Facebook post Friday morning. "But what we heard is now the reality, and unless it is addressed by the president as such, with unprecedented candor and strength, there may commence an unraveling of our national fabric."
The former Republican presidential candidate's comments came three days after Trump drew a moral equivalency between white nationalists and those protesting them and described some of those at the Unite the Right rally as "very fine people."
"What about the alt-left that came charging at the, as you say, the alt-right? Do they have any semblance of guilt?" Trump said in a bizarre press conference Tuesday. "I think there is blame on both sides, and I have no doubt about it."
His remarks drew immediate backlash from across the political spectrum, but praise from white nationalists, including former Ku Klux Klan grand wizard David Duke, who praised the president for his "courage."
Susan Bro — the mother of Heather Heyer, who was killed Saturday when a car, driven by a person suspected to be a white nationalist, plowed through a throng of protesters — said Friday on Good Morning America that she has not spoken with Trump and does not plan to do so.
"I'm not talking to the president now," Bro said. "I'm sorry. After what he said about my child, and it's not that I saw somebody else's tweets about him. I saw an actual clip of him at a press conference equating the protesters like Ms. Heyer with the KKK and the white supremacists."
In the aftermath of Trump's remarks on the Charlottesville violence, a number of Republicans issued statements strongly condemning white supremacy, but many did not explicitly call out the president.
But as fallout from his remarks grew throughout the week, several Republicans have publicly blasted Trump and questioned his ability to lead the nation.
"I'm not going to defend the indefensible," Sen. Tim Scott, the chamber's only black Republican, told Vice on Thursday. "What we want to see from our president is clarity and moral authority. And that moral authority is compromised when Tuesday happens."
Sen. Bob Corker (R-Tenn.) went even further Thursday, telling reporters that Trump has "not yet been able to demonstrate the stability nor some of the competence that he needs to demonstrate in order to be successful."
In his Facebook post Friday, Romney — who criticized Trump a number of times during the 2016 campaign — called on Trump to "acknowledge he was wrong" and "apologize" to the American people for his defiant Unite the Right comments, saying that he must "take remedial action in the extreme."
"This is a defining moment for President Trump," Romney wrote. "But much more than that, it is a moment that will define America in the hearts of our children. They are watching, our soldiers are watching, the world is watching. Mr. President, act now for the good of the country."