What does Bannon firing mean for the Trump administration going forward?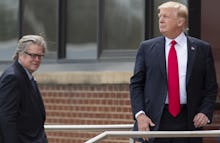 Steve Bannon — the architect behind President Donald Trump's "America First" agenda — is out as White House chief strategist, multiple outlets reported Friday.
The shadowy top adviser — whose outsize influence once earned him the monicker "President Bannon" — has been rumored to be on the chopping block for weeks, but speculation over his ouster intensified in recent days amid scrutiny from new White House chief of staff John Kelly.
Bannon's removal comes days after Trump declined to comment on his former campaign manager's role in the administration, defending the former Breitbart head as a "good man" but saying simply "we'll see" in response to questions about his White House future.
His removal from the president's inner circle draws to a close a tumultuous year on Team Trump in which he helped engineer one of the most stunning upsets in American political history but fed into the White House chaos that has frustrated the administration's ability to enact its controversial agenda.
What all this means for the administration is not yet clear.
Bannon has always been one of the most controversial members of the Trump administration because of his association with the so-called "alt-right." But criticism of his White House role has grown stronger in the days following a violent white nationalist rally in Charlottesville, Virginia, that left one woman dead and several other people injured, with many urging Trump to fire Bannon, along with adviser Stephen Miller and White House deputy assistant Sebastian Gorka.
But it would be difficult to interpret Bannon's ouster — which may or may not have been voluntary — as a sign that Trump is shifting away from the far right. For the past week, Trump has been mired in arguably the biggest controversy of his presidency over his stunning defense of the Unite the Right ralliers in Charlottesville and his insistence that "both sides" are to blame for the violence that erupted there. He doubled down on his defiant Tuesday remarks on Thursday, echoing white nationalist talking points that removing Confederate monuments was tearing down "the history and culture of this great country."
Still, Bannon's leave could be seen as a win for senior adviser Jared Kushner, who has reportedly been engaged in a long-running feud with the chief strategist, and Kelly, who has been trying to bring order to a White House plagued by dysfunction.
Bannon played a major role in that dysfunction, warring with his colleagues in the administration and allegedly using his connections to the right wing media to go after his White House foes.
Though he's spent weeks in isolation, reportedly holed up in his office in an attempt to hang onto his job, Bannon has weathered a number of political storms during Trump's presidency, managing to stay alive amid numerous dips in influence.
But Trump had reportedly come to believe that Bannon was behind some of the leaks that have beset the White House, and has apparently remained annoyed by the credit Bannon has received for getting him into office in the first place.
"That fucking Steve Bannon taking credit for my election," Trump told a confidante recently, according to Buzzfeed.
But in the days leading up to his ouster, it was reported that Trump was "very nervous and afraid of firing him" and considering just demoting him.
Instead, Bannon became the latest — and most prominent — casualty of the still-young administration in an August shakeup presaged by the July resignation of press secretary Sean Spicer.
Bannon, like Spicer, had opposed the appointment of Anthony "the Mooch" Scaramucci as White House communications director and hadn't been consulted in the ill-fated hiring — a reflection of the chief strategist's waning influence in the administration.
He'd been conspicuously absent from White House policy discussions for weeks in a "self-imposed exile," but burst back onto the radar earlier this week with a surprisingly candid interview with the American Prospect. In it, he seemed to downplay Trump's recent brinkmanship with North Korea, dismissed the hate groups in Charlottesville as "losers" and again attacked his White House rivals.
"They're wetting themselves," Bannon said of his administration enemies.
Bannon's removal may not portend well for other extreme firebrands in the White House — particularly Gorka, who has similarly associated with far right fringe ideology and whose duties are unclear.
It also may spell trouble for those he considers "globalists," whom he now plans on going "thermonuclear" against, according to Axios.
Whether this major leave actually has any concrete impact on the administration, however, remains to be seen. Though Bannon's out, some close to the White House are reportedly "worried" that Miller and Kellyanne Conway are still in the fold.
Further, many have noted that the White House dysfunction is bigger than Bannon. It's possible, maybe even likely, that the nationalist "America First" ideology promulgated by the chief strategist could survive him in the Trump White House. And while Bannon was known for his web of feuds, critics have argued that the chaotic culture at 1600 Pennsylvania Avenue will persist as long as Trump remains in office — regardless of any personnel shifts.
"Bannon was A problem," Rep. Al Green (D-Texas) tweeted Friday afternoon. "Trump is THE problem."