Here's how the far right is reacting to news of Bannon's departure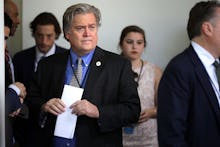 After days of rumors, news broke Friday that White House chief strategist and former Breitbart executive chairman Steve Bannon was leaving his post in the Trump administration.
Bannon, a former head of the Trump campaign who has been seen as the voice of the so-called "alt-right" in the White House, allegedly has plans to return to Breitbart, the far-right outlet he helped shape.
Over on Bannon's home turf, a report about his departure cited reports that he had feuds with "a number of the globalists [sic] White House officials within Trump's administration."
Mike Cernovich, a social media personality best known for promoting conspiracy theories targeting Hillary Clinton, posted a series of videos on Twitter reacting to the news of Bannon's departure, claiming Bannon "will do more good, more work, outside the White House" and adding that Bannon's ousting was part of a "coup" by Vice President Mike Pence.
Meanwhile, fellow pro-Trump conspiracy theorist Jack Posobiec posted his own video on Twitter, claiming the existence of an ongoing Republican National Committee plot to work with Democrats to impeach the president.
In her tweet on the high-profile resignation, controversial right-wing provocateur Ann Coulter appeared to suggest that intense criticism from the media was to blame for Bannon leaving his post.
Shortly after the news broke, Joel Pollak, a senior editor-at-large for Breitbart News, simply tweeted "#WAR."
Pollak would later publish an article titled "With Steve Bannon, Donald Trump Risks Becoming Arnold Schwarzenegger 2.0." Pollak's piece argues that without Bannon in the White House, Trump would not stick to his far right agenda.
According to a New York Times report on Bannon's departure, Bannon's recent interview with the progressive magazine American Prospect — in which he dismissed the white supremacists and neo-Nazis behind Saturday's deadly gathering in Charlottesville, Virginia, as a "fringe element" and spoke at length about his plans for an "economic war" with China — seemed to some people within the White House as an attempt to provoke Trump and may have contributed to his ousting.
This is a developing story and will be updated.
August 18, 2017 4:54 p.m.: This story has been updated.