Monuments blur the line between memorial and tourist attraction — that's why context is so important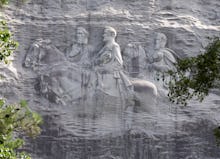 As a black woman and a native Southerner from the city of Stone Mountain, Georgia, the symbolism of statues and monuments is not lost on me. As a travel writer, I always look forward to strolling the streets of whatever city I'm in, taking in the fresh air, sights, sounds and smells, and yes, the monuments. Walking tours tend to be my favorite and the untold histories of cities fills me with intrigue. But monuments always had a very different meaning at home. That's because the ones I saw growing up were in homage to the Confederacy and have always had an explicit meaning — they honored people with complicated legacies.
While these legacies have always been very present, recent events like the violent protest at Charlottesville have led to reflection upon why they still exist and whether they should be taken down. And there's a bigger question at play: Is there a way to be honest about history, for residents and newcomers alike, without building a willful monument to a hateful past?
Stone Mountain and its park: a burning, fervent history lesson
Atlantans know about Stone Mountain. Aside from Piedmont Park, it's the mecca for outdoor exercise. A five-mile walking path, hilly and winding at most points, circles the park.
Stone Mountain itself is an 825-foot-tall granite monadnock with carvings of Confederate soldiers Robert E. Lee, Stonewall Jackson and Jefferson Davis on its face — and a park and family-oriented attractions built around it. The carvings were completed in 1972 after decades of funding issues. Stone Mountain Memorial Association, a state of Georgia authority, and Herschend Family Entertainment, who manages the park's everyday commercial operations, both maintain the carvings are a memorial.
The mountain, however has a darker past. Karcheik Sims-Alvarado, an Atlanta historian and author of Images of America: Atlanta and the Civil Rights Movement, 1944-1968 said in a phone interview that in November 1915, the Ku Klux Klan celebrated a rebirth on the summit of the mountain with the burning of crosses, most likely inspired by the release of Birth of a Nation months prior.
Stone Mountain is the largest high relief sculpture in the world and arguably the largest monument to the Confederacy in the world. Yet it's a monument frequently touted solely as a site for tourism.
As you walk through Stone Mountain Park, you see paddle boats, a gondola that'll take visitors to the top of the mountain with Atlanta skyline and North Georgia mountain views, picnic tables and areas for grilling, larger pavilions which can be rented for family reunions. The world also knows this park, although they don't realize it. When Atlanta hosted the 1996 Olympic Games, cycling, archery and tennis events were held there.
As a high school senior, I attended prom at the Marriott hotel on the park's property. In the summer, my family packed a cooler and blankets to view the nightly laser shows, a pyrotechnic, musical show projected on the face of the mountain. I knew the history of it, mostly blithely, but it's not what I — or most of its visitors — focus on when we're there.
Navigating southern history as a tourist
Confederate statues muddle the murky line between being a memorial to the fallen and immortalizing leaders and soldiers who stood for systemic racism and hatred. The latter should be called what they are — monuments elected officials and citizen groups pushed to be built as enduring symbols of the dark side of country's history.
There is a clear difference, especially when we look at problematic statues in the context of memorials, monuments and museum. Memorials are all-encompassing, like the Martin Luther King Jr. Memorial in Washington, D.C. And museums? There's an implied educational pay-off and a curatorial process for everything housed within them. There's also the tired argument that pulling down these structures erases the history they speak for. Logically, this is wholly untrue — this history remains very much alive in museums and other educational institutions.
With these considerations in mind, we have a role to play when visiting the places where these statues can be found, such as Richmond and Baltimore, two cities with tourism on the rise. Responsible travelers can and should approach them as a means of knowing, understanding and contextualizing history.
If you were walking along Monument Avenue in Richmond, Virginia, and stumbled upon the massive, bronzed Robert E. Lee statue (as well as statues of four other confederate soldiers), it's easy to assume that it is associated with a legacy worth knowing. You might assume the same if you'd seen the Robert E. Lee statue outside Duke Chapel at Duke University in Durham, North Carolina, which was removed this morning, or the recently removed statues of Robert E. Lee and Stonewall Jackson in Baltimore.
Monuments and statues send a clear message: these are people to be revered and respected. These are people who none of us can afford to forget. So we'll build something of bronze or marble. The grand irony is, these monuments and statues are often supposed to be works of art — yet most of them are grotesque.
Sims-Alvarado agrees and said we have to think about the psychology of what these statues represent, can mean and have meant for black people.
"I wish I had the right language to be able to talk about the psychology or the psychological impact of seeing these symbols in the Jim Crow South," she said. "And what it does to the mind and spirit and one's feeling of belonging."
The enduring legacy of the Confederacy throughout the South
My hometown is not unlike many other cities throughout the South where prized monuments to the Confederacy still exist. A crowdsourced document published on Mic lists nearly 200 Confederate statues and monuments, with 44 movements total to topple those structures.
These monuments went up without any resistance. They were wanted. Back then, it was all about maintaining Southern history, heritage and a legacy Southerners of the past seemed to be losing their grip on with an ever-changing world.
But now, what these statues mean are being called into question. As recently as two years ago, the Atlanta branch of the NAACP called for the Confederate symbols on Stone Mountain to be removed. Earlier this week, the Atlanta Journal-Constitution reported a petition from a KKK member to the Stone Mountain Memorial Association to burn a cross on top of the mountain was denied.
Georgia Rep. Stacey Abrams, former minority leader and current gubernatorial candidate, has a firm stance and is leading the charge for a new beginning for Stone Mountain.
"I am running to be a governor who fosters opportunity for every single family in Georgia," Abrams said. "Honoring or memorializing those who supported slavery and the dismantling of our nation promotes fear and hate that is in opposition to that mission."
It's been 45 years since the carvings on Stone Mountain were completed and unveiled. That's 45 years of hiding the ugly history of a carving and a mountain. To know the tide is turning — even slightly — feels, to a Stone Mountain native, like the weightiest of vindication.