After leaving White House, Steve Bannon returns to 'Breitbart News' as executive chairman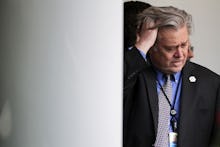 On the same day that Steve Bannon left his position at the White House, the former chief strategist and senior counselor to President Donald Trump made his return to Breitbart News on Friday, which he will helm as executive chairman according to an announcement on the alt-right news site.
Breitbart News' statement heralding Bannon's return said that the former Trump aide chaired the newsroom's evening editorial meeting just hours after departing his White House post.
Alex Marlow, editor of Breitbart News, and Larry Solov, its CEO, both celebrated Bannon's return to the world of alt-right media.
"The populist-nationalist movement got a lot stronger today," Marlow said. "Breitbart gained an executive chairman with his finger on the pulse of the Trump agenda."
Solov said Bannon's return to the site would catalyze its global expansion.
"Breitbart's pace of global expansion will only accelerate with Steve back," Solov said. "The sky's the limit."
Bannon's homecoming caps off a tumultuous week for the beleaguered former Trump campaign chief, which began with rumblings that his White House job was in jeopardy. Following a controversial speech where Trump remarked — among many things — on Bannon's uncertain future in the White House, the president's chief strategist gave an interview to a small liberal magazine where he contradicted Trump's hardline on North Korea.
It was reported that Bannon gave his resignation in early August.