Trumps to skip Kennedy Center Honors to free the event of "political distraction"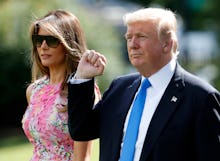 President Donald Trump and first lady Melania Trump will not attend the Kennedy Center Honors in December, the White House announced Saturday.
The announcement comes as several honorees at this year's ceremony indicated that they would not go to the annual celebration of the arts if the president was there.
"The president and first lady have decided not to participate in this year's activities to allow the honorees to celebrate without any political distraction," the White House said in a statement. "First lady Melania Trump, along with her husband President Donald J. Trump, extend their sincerest congratulations and well wishes to all of this year's award recipients for their many accomplishments."
Television legend Norman Lear and dancer Carmen de Lavallande, who are among this year's honorees, each said that they would not attend the White House reception because of Trump. Others, including singer Lionel Richie, have expressed reservations about going to the White House and suggested they may skip.
The White House announcement comes amid a hurricane of backlash for Trump, who has repeatedly blamed "both sides" for the violence that erupted at a "Unite the Right" rally in Charlottesville last weekend and defended some of the white nationalists who descended on the Virginia city as "very fine people."
The stunning remarks triggered an exodus of CEOs from two advisory councils, which Trump was forced to disband; the resignation of the entire Committee on Arts and Humanities; and a widespread criticism, including from members of his own party.
"Whether he intended to or not, what he communicated caused racists to rejoice, minorities to weep, and the vast heart of America to mourn," former Republican presidential candidate Mitt Romney said in a Facebook post Friday.
Additionally, at least 16 charities have announced they will not hold fundraising events at Mar-a-Lago, Trump's Palm Beach club, because of his remarks drawing a moral equivalency between white supremacists in Charlottesville and those who were there to protest against them.
"Our values and commitment to diversity are critical as we work to address the impact of cancer in every community," the American Cancer Society said in a statement pulling a 2018 fundraising event from Mar-a-Lago. "It has become increasingly clear that the challenge to those values is outweighing other business considerations."
The Kennedy Center said in a statement Saturday that all honorees would be in attendance at the annual ceremony celebrating the arts on December 2 and 3 and that the December 3 White House reception is canceled. Chairman David M. Rubenstein and President Deborah F. Rutter said they were "grateful" the president and first lady have decided not to participate.
"The Kennedy Center respects the decision made today by the office of the president of the United States," Rubenstein and Rutter said. "In choosing not to participate in this year's Honors activities, the administration has graciously signaled its respect for the Kennedy Center and ensures the Honors gala remains a deservingly special moment for the Honorees. We are grateful for this gesture."