Live Updates: Thousands protest 'Free Speech Rally' in Boston a week after Charlottesville violence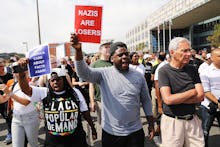 Thousands took to the streets of Boston Saturday as left-leaning groups led a a large protest against a conservative free speech rally a week after a violent white nationalist rally in Charlottesville, Virgnia.
The Second Annual Free Speech Rally — hosted by a "coalition of libertarians, progressives, conservatives, and independents" — appears to have been shut down, the Boston Globe reported Saturday afternoon.
City officials had expressed concern about the planned event in light of the violence that broke out at last week's white nationalist rally in Charlottesville, Virginia, that left one dead and several injured.
"We don't want a repeat of what happened in Charlottesville," Boston Police Commissioner William Evans said at a news conference on Friday. "Boston is too united. We have a city that doesn't tolerate hatred and bigotry."
The "Free Speech" rally was quickly dwarfed by a counter-protest led by left-leaning organizations, with thousands estimated to have joined a march denouncing hate groups.
The counter-protesters — which apparently includes about an antifa contingent of about two dozen — chanted "no racists in Boston" as they marched.
The rival rallies came a week after a white nationalist drove a car into a throng of pedestrians in Charlottesville, killing 32-year-old Heather Heyer and capping a day of clashes between the protesters and counterprotesters at a Unite the Right rally.
President Donald Trump has faced a torrent of backlash for drawing a moral equivalency between white nationalists and those there to protest them in stunning remarks that were celebrated by white nationalists, including former Ku Klux Klan leader David Duke.
Though the organizers of the Boston "Free Speech" rally on Saturday said they are not associated with white supremacists, the KKK said it would have a presence there and the Boston Globe reports that some of the planned speakers are far-right extremists.
Mayor Marty Walsh urged those participating in the dueling rallies on Saturday to remain "peaceful."
It has been so far, CNN reported early Saturday afternoon, but there have been some moments of tension, like when a crowd of counter-protesters confronted two apparent Trump supporters and yelled for them to "get the hell out of Boston."
The march continued in Boston Saturday afternoon as Free Speech ralliers left.
This is a developing story and will be updated.
Jack Smith IV and Eric Lutz contributed reporting.