Thousands of protesters shut down controversial "Free Speech Rally" in Boston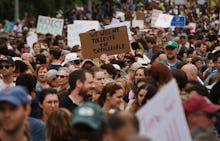 A "Free Speech Rally" organized by conservative activists was shut down on Saturday as thousands of counterprotesters flooded the streets of Boston to march against hate groups, the Boston Police Department confirmed.
The controversial rally — held one week after a deadly white nationalist rally in Charlottesville, Virginia — was supposedly going to be a gathering of "libertarians, progressives, conservatives, and independents" in protest of what organizers called "sweeping censorship that undermines our democratic system."
But officials feared that the event could descend into the kind of violence that left a 32-year-old woman dead and several others injured in Charlottesville.
"We don't want a repeat of what happened in Charlottesville," Boston Police Commissioner William Evans said at a news conference on Friday. "Boston is too united. We have a city that doesn't tolerate hatred and bigotry."
The conservative Free Speech ralliers were vastly outnumbered by counterprotesters, who carried signs denouncing Nazis and other white supremacist groups.
"This so-called free speech rally — some of the people speaking have said some very hurtful things about the Jewish community, about the African-American community, about a whole bunch of other communities. And I don't want them here," Mayor Marty Walsh said Friday. "I absolutely would not have given them a permit if I didn't have to give them a permit. We don't need that type of rhetoric going on in Boston Common. We've come too far."
Police escorted speakers from the scene, according to the Boston Globe, and worked to keep protesters and counterprotesters separated.
At least eight people have been arrested, according to CNN.
Though the Free Speech rally is over, demonstrators continued to march through the streets of Boston.