Trump praises Bannon as the fired adviser returns to 'Breitbart' "jacked up" and ready for "war"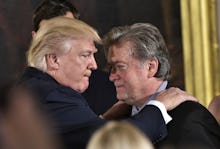 President Donald Trump — who fired Steve Bannon on Friday — tweeted in support of his former chief strategist Saturday, signaling that he apparently remains allied with him as he reassumes his position at Breitbart News.
Bannon — who helped engineer Trump's unlikely election last November but whose constant feuding impeded the administration's ability to enact his nationalist "America First" agenda — helmed the alt-right publication before joining Team Trump a year ago. He returned to the right-wing mouthpiece immediately after leaving the administration Friday, promising to "go to war for Trump" against his political and media enemies.
His departure followed weeks of increasing isolation and declining influence within the administration. Long a controversial figure, calls for the shadowy adviser's sacking reached a fever pitch in the wake of a deadly white nationalist rally in Charlottesville, Virginia, that was organized by the so-called alt-right.
The right wing mourned Bannon's ouster, but on Breitbart — which he rejoined in time to lead its Friday evening editorial meeting — his return was enthusiastically celebrated.
"'Populist hero' Stephen K. Bannon returns home to Breitbart," one headline cheering his return read.
"The populist-nationalist movement got a lot stronger today," Breitbart News editor in chief Alex Marlow said. "Breitbart gained an executive chairman with his finger on the pulse of the Trump agenda."
"Now he knows who the enemies of the American people are," Breitbart London editor in chief Raheem Kassam said on Fox News after Bannon's return to the publication.
Breitbart had long been considered a fringe outlet, frequently publishing racist, misogynistic and conspiratorial content, but was introduced into the mainstream with help from Trump, whose rhetoric on the campaign trail echoed the publication's populist nationalism.
While Trump has warred against most of the media, which he calls "fake news," he has frequently retweeted stories from Breitbart and other fringe publications like the Gateway Pundit — and has attempted to normalize them by comparing them to mainstream publications like the New York Times.
"They cover stories like you cover stories," Trump said in November, according to the Times. "They are certainly a much more conservative paper ... but Breitbart really is a news organization that has become quite successful. It's got readers, and it does cover subjects on the right, but it covers subjects on the left also. It's a pretty big thing."
Breitbart, meanwhile, has been a reliably pro-Trump organization. Despite an ominous tweet from Breitbart's Joel B. Pollak implying to some that the publication was going to go to "war" against the Trump administration and Bannon's proclamations that the presidency is "over," the former adviser indicated that he would still go to bat for Trump's nationalist agenda.
"I feel jacked up," Bannon said upon returning to Breitbart. "Now I'm free. I've got my hands back on my weapons. Someone said, 'It's Bannon the Barbarian.' I am definitely going to crush the opposition."