Gov. John Kasich criticizes Trump's staff changes and Charlottesville response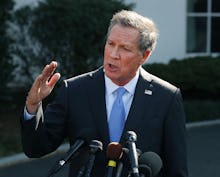 Ohio Governor and 2016 Republican presidential primary challenger John Kasich was quick to criticize President Donald Trump on Sunday, in the wake of the president's widely condemned response to the violence in Charlottesville and the recent removal of controversial adviser Steve Bannon.
In an appearance on CNN's State of the Union, Kasich expressed "concern" about the White House's "chaotic situation in terms of staff" days after Bannon joined a growing list of ousted members of the Trump administration, including former chief of staff Reince Priebus and communications director Anthony Scaramucci.
"When you have chaos amongst your staff ... it's hard to get anything done. You have to build focus, you have to build a team," Kasich said, later adding, "I don't know what all the inner workings are, but they've got to get some stability among the staff, and I think that's probably what Gen. Kelly is trying to do."
Kasich has been openly critical of Trump's response to the "Unite the Right" rally and ensuing fatal car attack in Charlottesville, describing the president's response as "pathetic" on a recent Today Show appearance and calling on the president to condemn the white supremacist protesters.
On Sunday, Kasich called for the country to unify and move forward in the wake of Charlottesville, saying that the president's current response is "looking backwards" when Americans should be examining what we can do "to deal with the fundamental issues that we have in the country," including race, welfare reform and unity between police and community.
"Everybody in America needs to take a deep breath and think about their children, and think about the country," Kasich said. "We don't do well when all we do is fight. So let's all take a deep breath and think about what we can do to heal some of the basic issues in this country, which are still out there."
Though Kasich was rumored to be eyeing a presidential run in 2020, the one-time candidate said on Sunday he currently has "no plans" to run and is "rooting for [Trump] to get it together."
"What I hope is going to happen is I hope we're going to have stability, the president is gonna learn from these episodes and we're going to do better," Kasich said.
"That's what I hope is gonna happen. We'll have to wait and see."