In wake of Bannon's removal, Rep. Adam Schiff recommends Steve Miller and Sebastian Gorka for ouster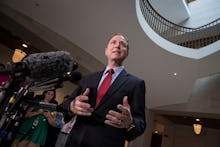 Former chief strategist Steve Bannon left the Trump administration on Friday — and according to one of the key members of Congress investigating President Donald Trump, there are a few other White House staffers that should follow in his footsteps.
In an appearance on CNN's State of the Union Sunday, California Rep. Adam Schiff, the ranking Democrat on the House Intelligence Committee, said that there are others in the White House that "shouldn't be there," specifically citing aide Sebastian Gorka and senior advisor Stephen Miller.
"There's certainly a lot of people on the White House staff, on the [National Security Council] staff that shouldn't be there, people like Miller and Gorka and others, who, not only I think represent the same thing Steve Bannon did, but aren't capable of doing the job well," Schiff said. "So yes, I think there's more cleaning house that needs to take place."
The White House is particularly in need of a capable staff, Schiff said Sunday, due to growing concerns about Trump's mental capability. Though Schiff emphasized "we're not at a point of thinking about the 25th Amendment" to remove Trump from office, the congressman advocated putting "real constraints" on Trump as Republican Sen. Bob Corker and others have joined Democrats in questioning his competence.
"I certainly think that there's an issue with the president's capability, there's some aspect of his character that makes him seemingly incapable of introspection and a broad understanding of what the country really needs," Schiff said, citing how Trump blamed his popular vote loss on illegal voting days after being elected president.
"I don't understand why, but I do recognize what a serious problem it is," Schiff added about Trump's behavior, noting that Corker's comment "shows a broadening recognition that there [are] some serious issues with our president that aren't going to go away, that aren't going to get better, and, indeed, the pressures of the job may very well get worse."
"I think for that reason we need, at a minimum, the very best people around him in the White House, and that means not people like Bannon, not people like Miller, not people like Gorka, but rather some more adults in the room," Schiff continued.