Treasury Sec. Steven Mnuchin defends Trump's Charlottesville response amid calls to resign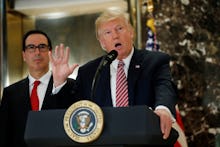 One of the most prominent Jewish members of President Donald Trump's cabinet came to the president's defense Sunday in the wake of his widely condemned response to the recent "Unite the Right" rally and fatal car attack in Charlottesville, claiming that allegations Trump supports Nazism and white supremacy are untrue.
Treasury Secretary Steven Mnuchin issued a statement clarifying his response to the Charlottesville events Saturday night, after more than 300 of Mnuchin's former classmates from Yale University signed an open letter calling on him "to resign in protest of Trump's support of Nazism and white supremacy."
"We can be Republicans, Democrats, Libertarians, Greens and a number of other things and still be friends, classmates, and patriots, but we cannot be Nazis and white supremacists," the letter reads. "We can disagree on the means of promoting the general welfare of the country, on the size and role of government, on the nature of freedom and security, but we cannot take the side of what we know to be evil."
In Mnuchin's response to the letter and other calls for the secretary to "speak out," which he published on Twitter, the treasury secretary "strongly condemned" the violence in Charlottesville but refused to step down, writing that he "doesn't believe the allegations about the president are accurate."
"As someone who is Jewish, I believe I understand the long history of violence and hatred against the Jews (and other minorities) and circumstances that give rise to these sentiments and actions," Mnuchin wrote.
"While I find it hard to believe I should have to defend myself on this, or the president, I feel compelled to let you know that the president in no way, shape or form, believes that neo-Nazis or other hate groups who endorse violence are equivalent to groups that demonstrate in peaceful and lawful ways."
Mnuchin said he was "familiar with the culture wars being fought in our country and the impact it is having on many people," having lived in a Yale college formerly named for John C. Calhoun, a former vice president known for his defense of slavery and the antebellum South. However, Mnuchin wrote, "some of these issues are far more complicated than we are led to believe by the mass media, and if it were so simple, such actions would have been taken by other presidents, governors and mayors, long before President Trump was elected by the American people."
Though the New York Times noted Mnuchin "stood uncomfortably" next to Trump as he claimed in a Tuesday press conference that "both sides" of the Charlottesville conflict — including the anti-racist counterprotesters — were to blame, Mnuchin's public statement was a strong defense of the commander-in-chief.
"Our President deserves the opportunity to propose his agenda and to do so without the attempts by those who opposed him in the primaries, in the general election and beyond to distract the administration and the American people from these most important policy issues — jobs, economic growth, and national security," the statement reads.
In addition to Mnuchin, a former Goldman Sachs executive and hedge fund manager, pressure is also reportedly mounting on National Economic Council Director Gary Cohn, another Jewish Trump ally, to resign. Though Cohn has not publicly commented on Trump's Charlottesville response, the White House issued a statement Thursday saying he would remain in his position, the Washington Post reported.