Freelance workers at these gig economy companies get extra perks to help them make more money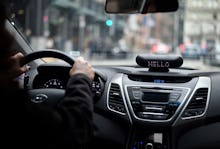 If you've signed up to drive for Lyft or sell cool crafts on Etsy, you know the drill: Because you're an independent contractor, you can't expect the traditional workplace perks like paid vacations and highly-subsidized health care that employees typically enjoy. But that doesn't mean gig economy workers get no benefits at all. You may be surprised to find that you can still get some sweet extras like sign-up bonuses, discounted phone service and help marketing your goods and services.
Thanks to a strong job market, which means more competition for qualified workers, gig economy companies are sweetening the pot to attract and retain talent that might otherwise be lured away by better offers. Of course there's a limit to how many extras employers will offer contractors. "The entire reason employers hire contractors is often to avoid providing them with any benefits traditionally thought of as employee benefits," Kathryn F. Abernethy, an employment lawyer at Abernethy Law, said in an email interview.
The key to making sure you're getting a good deal is comparison shopping for the best benefits and understanding how to protect yourself. "The single most important thing a gig worker can do to protect their rights and interests in the workplace is to negotiate aggressively for the best contract possible upfront," Abernethy said. That includes asking about any benefits, including any discounts that will lower the day-to-day costs of plying your trade.
While your expected take home pay is your top concern, you should keep an eye out for red flags. The biggest thing to look out for, according to Abernethy, is a non-compete clause that could make it harder to find another job in the future. "If the employer asks you to sign a contract that contains any sort of 'non-compete,' or 'non-solicitation' clause, you should really get legal advice before you sign."
We've taken a close look at some of the top incentives offered to gig economy workers to help you choose a company that will best reward you for your efforts. Here are some of the benefits you can expect.
DoorDash
"Dashers" at DoorDash deliver products like restaurant food or items from local businesses. Perks like the use of company's new fleet of electric bikes, so dashers don't need their own wheels, as well as weekly paychecks, so they get paid faster than the standard biweekly schedule at many workplaces, Eitan Bencuya, DoorDash's head of communication, said in an email.
Etsy
Want to sell those cute dog hats you've been knitting or those awesome photos you took of the New York City skyline? Etsy helps its 1.8 million sellers reach customers and reduce costs with perks like up to 30% off shipping and the ability to have their shops show up higher in Etsy searches when they pay for promotion, an Etsy spokesperson said in an email. Sellers can also join discussion boards to share tips on best practices.
Lyft
Drivers for Lyft get a wide range of perks, including 15% off Verizon phone plans and a $0.03 per gallon discount on fuel through Shell Fuel rewards. But the real clincher is the signup bonus of up to $800 in San Francisco, the Wall Street Journal reports. Drivers in other cities can get bonuses up to $500.
Lyft offers additional incentives based on how frequently drivers pick up riders. "Gold-level" drivers who do 20 rides per month get auto maintenance discounts and a higher fuel discount of $0.05 per gallon. Meanwhile, platinum-level drivers who do more than 200 rides per month get $0.07 off per gallon, along with free roadside assistance through Allstate Roadside Services, according to Lyft's website.
Postmates
On-demand delivery service Postmates is offering bonuses between $50 and $500 to freelancers interested in making deliveries, the Wall Street Journal notes. Workers who complete at least 10 deliveries monthly also become eligible for special discounts at companies including AutoZone, 24 Hour Fitness, mobile phone providers and tech companies like Dell and Panasonic. Contractors are also notified by email or in the Fleet app of other special daily or weekly bonuses or incentives for completing deliveries.
TaskRabbit
Plumbers and other "taskers" can connect with clients on TaskRabbit, which offers discounts of up to 18% on phone service, $60 off a Zipcar membership and up to 80% off at Office Depot and OfficeMax. But the company's best perk is its Happiness Pledge, which provides liability protection of up to $1 million for property damage or bodily injury and up to $10,000 for property loss.
Taskers also hold online and in-person meet-ups where they can share tips and learn from each other. "For example, one Tasker can post about how to most effectively learn the ins and outs of electrical wiring," TaskRabbit sopkesperson Adi Raval added.
Uber
Under fire over driver pay and workplace sexism, Uber now offers a wide selection of perks.
Signup bonuses are around $700 (the dollar amount changes frequently so it may be higher or lower when you check) and all drivers can get discounted fuel, tuneups and repairs. The fuel card program, for example, provides up to $0.15 off per gallon plus an additional 1.5% off gas purchased with a MasterCard. Drivers also get discounts of up to 15% off at Auto-Zone, Firestone, Meineke, Midas, Valvoline and Jiffy Lube.
That's on top of 15% to 18% off phone plans and free music from Pandora with the Uber Driver app. Lastly, to help drivers save on auto insurance, Uber is rolling out a pilot insurance program through a partnership with Aon PLC, according to the Wall Street Journal.
Sign up for the Payoff — your weekly crash course on how to live your best financial life.