15 times the Kardashian-Jenners were problematic in 2017 — and the 3 times they apologized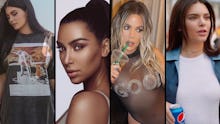 Things that are true: Water is wet. We don't deserve Rihanna. The Kardashian-Jenner family is one of the most problematic celebrity families on the planet. The tortuous year of 2017 has made that abundantly clear.
It's not as though this family is newly problematic; it's just that this year, in particular, it's like every few weeks we get a new reason to be suspicious of this family. They keep on ripping off indie designers. They keep on starring in misguided advertisements. They just keep on slipping up.
So we decided to compile a thorough and lengthy tally of all the different incidents this year that caused people to freak out and deem this family problematic. (Caitlyn Jenner is worthy of an entire article herself, so we decided to not include her in this list.)
Kim Kardashian West
Let's start with the family member who started it all and made the rest of this family famous, shall we?
The flu diet
In April, it seemed as though Kanye West's history of recklessness on Twitter finally rubbed off on Kim. Right before the Met Gala, she sent out a tweet that said this: "The flu can be an amazing diet. So happy it came in time for the Met." 
It's now been deleted, but still, viewing an illness (that some people can die as a result of) as a weight-loss program didn't go over well for her followers.
The skin darkening
When teasing her KKW Beauty line this June, Kardashian West posted a series of images of herself, which many thought made her skin look far darker than it is. Looking at her feed at the time, she posted plenty that seemed more similar to her skin tone, but then there were those darker ones. These led to the serious accusation that this kind of photo editing is like virtual blackface.
The defense of Jeffree Star
If a makeup artist has been caught making vicious racist remarks, maybe don't try to defend, you know? Just one week ago, Kardashian West did just that. After Jeffree Star called Kardashian West's latest makeup launch out for being poor quality, West fans tried to expose Star's past racist remarks. But rather than distance herself from him, West took the time to hop on Instagram and Snapchat and tell her fans to lay off.
"Guys, I see you being so petty and bringing up things in his past where [Jeffree] was negative," West said in a video. "But, he's also apologized for those things and I get it's a serious deal if you say racial things. But, I do believe in people changing and people that apologize; I will give them the benefit of the doubt and accept that people change and move on. ... I know better than anyone that I hate when people bring up my past or mistakes I've made in the past. So let him live. I welcome honest comments about my products."
Her fans weren't having it.
Khloé Kardashian
Now for Khloé Kardashian, perhaps the most outspoken of the Kardashian-Jenner gang.
Revenge Body maybe isn't such a great idea
As Kardashian ramped up press for her TV show Revenge Body on E!, which centered around people getting fit as "revenge" after being bullied for their weight, fans started thinking, "Wait, maybe this isn't such a great idea. Maybe this isn't such a positive thing."
Because, after all, shouldn't getting fitter be something you do for yourself? Although Kardashian attempted to back up her concept, writing on Instagram "'Revenge body' is deeper than a physical transformation. It is a spiritual and emotional transformation. The physical part is a bonus!" But people still weren't feeling it.
A writer at the Daily Beast also criticized the show for promoting beauty as a one-definition thing, writing that it "unabashedly promotes Western standards of beauty and preaches that a thin physique and conventional attractiveness are weapons that can be wielded against your haters and exes."
Accused of copying Made Gold's jeans
There are a lot of positive things about Khloé's Good American line. It's using diverse models, and sizing is inclusive so women who are a size 12 or larger aren't forced into different sections.
But then, every few months, an indie designer comes out and says that a Kardashian's ripped off their stuff. In March, the denim brand Made Gold accused Good American of ripping off its own lace-up jeans. For reference, here's Good American's lace-up jeans.
Accused of ripping off Destiney Bleu's glitter top
Then in June, Good American was accused of ripping off a designer yet again. This time, it was designer Destiney Bleu, who claimed that Khloé's company had ripped off the glittery, see-through tops she designed for her brand dbleudazzled, which has been worn by the likes of Beyoncé and Serena Williams.
Although Bleu claims that Khloé's team bought several pieces from her earlier this year, Good American wasn't ready to apologize for any misunderstanding. "Under no circumstances did Good American or Khloé Kardashian infringe on another brand's intellectual property," the company said in an email, additionally noting that it is "going through the proper legal channels to handle the situation."
Kylie Jenner
Just like her sister, Kylie Jenner's got a lengthy history of being accused of ripping off other designers, too.
Kendall and Kylie ripping off Chanel?
For this special problematic moment, we get two sisters in one. Back in February, Kendall and Kylie Jenner teased a number of items off their new Kendall + Kylie fashion line, including these gold chain sandals.
They're certainly nothing to write home about, but many fans noticed that they looked quite similar to a pair of Chanel sandals, too, with gold chains.
While Kendall and Kylie's shoe went for $125 on their site at the time (they're now on sale), Chanel's version went for $995 and are now sold out.
Messy makeup names
Makeup names actually have a long history of being sexually tinged. Nars has blushes named "Orgasm" and "Deep Throat" after all. But it's just a little weird when a woman like Kylie Jenner, who was 19 in March, names her blushes things like "Virginity" and "Barely Legal."
It seemed messed up to many.
Copying camouflage
Yet another instance of Jenner being called out for copying another designer came in June, when Plugged NYC claimed that Jenner had copied its multicolored camouflage bikinis and sweatsuits.
For reference, you can see Plugged NYC's design below:
Those Tupac and Biggie shirts
Oh look, another Kendall and Kylie special. In June, the sisters got dragged nearly off the entire internet for having the audacity to release T-shirts featuring images of Tupac and Biggie with their faces printed over them.
If that wasn't enough, Biggie's mom quickly weighed in, writing on Instagram: "The disrespect of these girls to not even reach out to me or anyone connected to the estate baffles me."
Then there was a copyright infringement suit against the sisters because of the T-shirts, which led the company to reveal that they only sold two of the Tupac shirts before having to pull them.
Sad!
Kendall Jenner
Think the words "problematic" and "Kendall Jenner," and you probably know exactly what we're going to write about, don't you?
The Pepsi ad
Here's a biggie. So in a Pepsi ad titled "Live for Moments Anthem," Jenner was seen offering up Pepsi cans in order to quell and unite a protest. Minutes after it was posted, outrage ensued, with plenty of people thinking that Pepsi really was using protest and social justice to sell, of all things, soda.
And that's just messed up.
Pepsi ended up pulling the ad, and apologizing for involving Jenner. (Did Jenner ever apologize though? LOL.)
Fyre Festival
Say the words "Fyre Festival" and try not to cringe. Yes, Kendall Jenner was one of the many models involved in hyping the event. "So hyped to announce my G.O.O.D. Music Family as the first headliners for @FyreFestival," she wrote in an Instagram post that's since been deleted.
The Vogue India cover
For the 10th anniversary cover of Vogue India, the publication chose, of all models and celebrities in existence right now, Kendall Jenner.
After the Pepsi ad and Fyre Fest, that just set people off. There are so many Indian actors and actresses and models after all. Why does Jenner have to land this particular cover, of all covers?
The incorrect emoji
Kendall celebrating the 10th anniversary of Keeping Up With the Kardashians and then landing straight into controversy only feels right, doesn't it?
Indeed, when Kendall tweeted out her family's Hollywood Reporter cover last week, she landed in hot water because of the color of her emoji. People took offense to her, a white person, using an emoji that's a darker shade.
In the Kardashian-Jenner universe, this is a very minor controversy, to say the least.
Rob Kardashian
The Blac Chyna rant
It's hard to remember a time when Rob Kardashian was a tolerable person, but in July he really proved how despicable he is when he circulated revenge porn of Blac Chyna, the mother of his only child.
Since that incident, which could warrant jail time, Chyna has lawyered up and taken out a restraining order.
Now for the apologies
Funny how much shorter this list is, isn't it?
An apology from Kendall and Kylie for those Tupac and Biggie T-shirts
After that lawsuit and royal dragging from the internet, both Kendall and Kylie issued an apology.
"These designs were not well thought out and we deeply apologize to anyone that has been upset and/or offended, especially to the families of the artists," the Jenner's joint statement read. "We are huge fans of their music and it was not our intention to disrespect these cultural icons in any way. The T-shirts have been pulled from retail and all images have been removed. We will use this as an opportunity to learn from these mistakes and again, we are very sorry."
An apology from Kim for those darkened images
Now this is harder to qualify as an apology, but still, Kardashian West did speak up about the outrage surrounding those darkened images. In an interview with the New York Times, she said, "I would obviously never want to offend anyone. I used an amazing photographer and a team of people. I was really tan when we shot the images, and it might be that the contrast was off."
"Of course, I have the utmost respect for why people might feel the way they did," she continued. "But we made the necessary changes to that photo and the rest of the photos. We saw the problem, and we adapted and changed right away. Definitely I have learned from it."
Better than nothing.
An apology from Kim for the Jeffree Star defense
Less than 24 hours after posting a defense of Star, Kim was back on social media, making videos and apologizing to her fans.
"I really wanted to apologize to you guys and my fans for defending a situation yesterday that I really didn't know enough about," Kardashian West said. "."
As for Kris and Kourtney...