Is it time to buy your first home?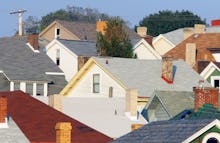 Ten years is a long time to call a place home — especially when that home is a rented apartment. Yet for Pittsburgh couple Lisa Toboz and Jeffrey Schreckengost, their storefront apartment that doubled as a guitar-building workshop in the city's Garfield neighborhood proved the perfect place to remain renters.
"We lived in Garfield for 10 years before we decided to buy," Toboz said. "We loved being so close to work and being able to walk right outside our door and be a part of the arts festivals, restaurants, a grocery store. We also loved the unique storefront space where we lived, since it afforded us free range to make as much noise as we wanted for making art and music."
Though Garfield had provided the couple with space to pursue their musical and artistic practices while also being close to all their essentials, the desire to buy began percolating, driven by, as Toboz said, "the usual things [people want] when buying a house: a place to call our own and do what we wanted with it." That desire was compounded by changes in the neighborhood itself.
"As Garfield grew, we felt less connected to it," she said. "Many of our neighbors were moving out because they couldn't afford to live there any longer, and because of the long Penn Avenue [the area's main commercial thoroughfare] construction plan, many of the businesses moved on, as well."
Toboz, a writer and photographer, and Schreckengost, a painter and guitar-maker, did not jump into the home-buying process lightly. Their search began online, looking at communities just north of the city. The couple laid out a two-year plan, diligently outlining a path that would ease the pressures and burdens that many first-time homebuyers confront. The first year of their plan required paying down as much debt as they could; the second year focused on saving. Their strong financial footing underscored another reason they were looking to buy: "We also wanted the security of having a place as we got older — some type of financial and personal investment," Toboz said.
A real estate agent guided the couple in their search. She was impressed by Toboz and Schreckengost's organization, noting they had obtained a pre-qualification letter before their search began in earnest to focus their price point.
Toboz and Schreckengost knew they didn't want something cookie-cutter. They wanted charm, something older and room for a studio. The real estate agent synthesized the couple's wants and needs with more nuance and insider knowledge than a real estate listing website. She cast a wider geographic net, showing them properties all over the city and its inner-ring suburbs. The couple started searching up north, then looked east and ended up going south.
They chose to buy a 1,300-square-foot, two-bedroom, one-bath, brick rowhouse built in 1922 on a cobblestone street. The scenic borough of Dormont is a quiet community informed by its open green spaces, gracious old architecture and walkable commercial district connected to Pittsburgh by trolley and light rail transit. "Dormont wasn't even on our list of potential places to live because we thought it would be out of our price range," Schreckengost said. "But Lisa saw ours listed under $100K and couldn't believe how nice it was." The purchase price was $92,900.
According to their real estate agent, many first-time buyers get intimidated and don't negotiate, afraid to lose the deal. In this case, there were multiple offers on the house, and the couple's agent was surprised by their savvy negotiation skills. Feeling empowered by their agent, Toboz and Schreckengost put in their best offer and went for it.
With the home finally secured, the couple updated the space to make it theirs. "We painted the rooms, pulled up carpet in the bedrooms and bought new furniture — the first time we owned a couch that wasn't given to us or found in the trash," Toboz said. "Jeff built a wall and replaced part of the floor in a section of the basement, which now functions as his studio."
The change in setting and scenery hasn't come at the expense of changing lifestyle. "Having more green space, animal sounds and quiet makes me feel more relaxed since moving here. We still have the convenience of the city but not the stress that goes along with it," Schreckengost said. "It's all worth it when it's your own home."