Make a group photo stream on iCloud to share pics privately with your friends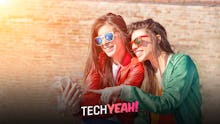 Taking photos is fun, but sharing them is not. It's really annoying to have to ask your friends to text you the cool pic they took of you on vacation. It feels needy and awkward. Instead of pestering your friends for photos, you should do what my friends and I did — start a shared photo stream for every important event in your life.
A shared photo album lets anyone invited add their photos to the stream so all the members can look at and download everyone else's photos. It's perfect for a trip, a party or a wedding. A lot of people have an ongoing shared photo album for their family or friend group that people add to whenever they want.
It's been really fun for me to use shared iCloud albums with my friends. Here's how to set one up on your iPhone.
Open your Photos app
Hit the "shared" button with the little cloud to see your shared iCloud photo albums.
Create a new album
Once you've hit "shared," you'll see whatever iCloud photo albums you've been shared on. To create a new album, hit the plus sign in the top left.
Name your album
Put a descriptive name on your photo album and hit "next" to share it with your friends.
Share your album
Then you'll be prompted to share the album with people in your phone's contacts. Add whoever you want to access the album and tap "create."
Your friends will get a notification that you invited them to join the album, and all of you can add photos whenever you want.
Hopefully you'll be less stressed about capturing every moment knowing that you'll have access to everyone else's photos later.
Sign up for Tech Yeah! — your biweekly digest with a helpful and hilarious tech tip for upgrading your life. Yes, there's a hack for that.