Report: Spanish police shoot man possibly wearing belt of explosives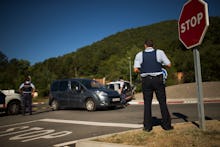 Spanish police claimed to have shot a man wearing a belt of explosives in a town outside of Barcelona on Monday following a deadly terrorist attack in the city days earlier, according to the Associated Press.
In a tweet earlier on Monday, Catalan police had announced an ongoing police operation in the town of Subirats, located 28 miles west of Barcelona, due to the presence of a "suspicious person."
Police later confirmed that the man who had been shot was 22-year-old Younes Abouyaaqoub — the man thought to have been driving a van that plowed into a cluster of tourists.
A manhunt for Abouyaaqoub began immediately after Thursday's terror attack, when police announced that he was the man suspected of driving the vehicle that ultimately killed 13 people and injured more than 120 others. Police also believe him to be responsible for subsequently carjacking a man and stabbing him to death as he attempted to flee the scene.
In a separate attack on Friday, Catalonia regional police said that a 12-member extremist cell had killed one person and wounded several others in the town of Cambrils, bringing the death total up to 15 people in total. The Islamic State group has since claimed responsibility for both attacks.
This story is breaking and will be updated.