This Nigerian fashion magazine is dedicated to dismantling gender stereotypes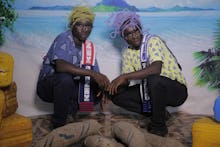 "I was completely different from the other boys around me growing up. Everywhere I went, people pointed out how different I was in the most unpleasant ways," Richard Akuson, founder and publisher of A Nasty Boy, said in a recent interview with Mic. Based in Lagos, Nigeria, A Nasty Boy is a new fashion publication that aims to subvert gender stereotypes and dismantle culturally ingrained attitudes of hypermasculinity.
With an estimated 188 million nationals, Nigeria is Africa's most populous country and the seventh-largest worldwide. Unlike in Japan or Korea, where birth rates have been steadily declining, Nigeria's youth population — which will one day shape the country's policy and societal outlook — is thriving. Yet despite the presence of such young minds (who tend to be much more progressive than older generations, as evidenced by the country's exploding creative scene), the cultural mentality regarding marginalized gender identities and sexual orientations is still fairly homogenous.
In a 2007 study, the Pew Global Attitudes Project found that 97% of Nigerians believed homosexuality was unacceptable, the second-highest percentage of the 46 countries polled. Much of this attitude is tied to religion and the deeply ingrained belief in the importance of traditional values: Nigeria is split closely between Christianity and Islam, with a marginally smaller percentage practicing traditional religions.
Much like the United States — which still struggles with the alienation of minority groups — and elsewhere, the relationship between religion, patriarchy and traditional beliefs creates a breeding ground for toxic masculinity to thrive and for alternative lifestyles to be rejected. It's currently illegal to be LGBTQ in Nigeria, and being caught engaging in homosexual behavior carries a penalty of up to 14 years incarceration.
In July, BBC reported that more than 40 men in Lagos were arrested for alleged homosexual activities. This normalized rejection of perceived otherness makes it difficult for concepts like gender-fluid fashion or nonbinary identities to find a place in the cultural conversation.
Even those who are merely interested in agender fashion or are open to experimentation from a purely sartorial perspective run the risk of being considered too "other" to be accepted into the mainstream. Unfortunately, because there is very little pre-existing awareness of alternative masculine and feminine identities — aside from stringent cisgender definitions — everything from the absence of gender to gender fluidity is often misunderstood or simply labeled as homosexual. And with Nigeria's current laws, to be perceived as such could potentially make someone the target of legal prosecution.
"I knew that A Nasty Boy would make a lot of Nigerians uncomfortable," Akuson explained. "I knew they wouldn't want to understand and appreciate it. But I also realized there was a need for a publication like this that champions alternative narratives and challenges perceptions."
According to Akuson (who previously worked in public relations and also wrote for a well-known Nigerian media company), his early support of brands like Orange Culture, Adebayo Oke-Lawal's LVMH-nominated gender-neutral line, were initially met with hateful comments and censure from editors.
Such experiences — coupled with past interactions with traditionally heteronormative men who often teased him for not wanting to play soccer or watch sports — led Akuson to seek out an alternative community. It was among those friends he found the inspiration and support to start A Nasty Boy. And now that the magazine has transitioned from pipe dream to viable project, it's those very same friends the magazine features.
A recent editorial in the magazine, titled "Best Friends Forever," calls on Akuson's own best friends to help visually unpack hypermasculinity and the fragility of the male ego. Featuring a dress-clad young man posing both solo and with two young women, the piece is meant to show a softer side of friendship and communicate an expression of masculinity that doesn't seek to conquer or disempower women.
"Being a man is a diverse thing," Akuson said. "Masculinity can and should be inclusive. I want the world to recognize that holding our boys and men to a singular definition is not fair. It alienates those who don't fit the definition, and that is incredibly emotionally damaging.
"I hope that A Nasty Boy is able to impact real change," he continued. "Maybe it won't be in policy, but perhaps in people. We want to be able to change the way our readers view the world and the way they relate to others. I just hope Nigeria gets better in its acceptance of otherness and that the people here are able to transcend to tolerance and truly accept those who are different."