Trump administration stops study on health risks of coal mines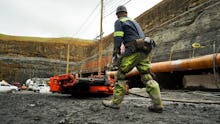 The Trump administration last week halted a government study regarding possible health risks associated with living near surface coal mining sites, the National Academies of Sciences, Engineering and Medicine announced on Monday.
"In an Aug. 18 letter, the U.S. Department of the Interior's Office of Surface Mining Reclamation and Enforcement informed the National Academies of Sciences, Engineering, and Medicine that it should cease all work on a study of the potential health risks for people living near surface coal mine sites in Central Appalachia," the NASEM said in a news release.
The NASEM had been given a $1 million grant last August from the Office of Surface Reclamation and Enforcement — a government agency within the Department of the Interior — for a two-year study of the potential health risks on those living near surface coal mines in central Appalachia. The grant came at the request of the state of West Virginia.
"West Virginia asked us in the federal government for help. We wanted to do the best we could for the people, so we brought the National Academy of Sciences on board because they are one of the world's most reputable scientific organizations," former OSMRE director Joe Pizarchik said after the grant was awarded for the study. "Good things happen when we work together."
The study sought to study the impacts surface coal mines had on air, surface water, ground water and drinking water, and how those may affect human health.
This is not the first environmental study or scientific report the Trump administration has killed or sought to suppress. President Donald Trump is seeking deep cuts to the Environmental Protection Agency and the National Oceanic and Atmospheric Administration, both of which study climate change.
The Trump administration also removed climate change data from the EPA website. And government scientists went as far as to leak a draft of a report that concluded that Americans are currently experiencing the effects of climate change out of fear the Trump administration wouldn't accept the findings