The 4 things everyone who's ever booked a trip online is doing wrong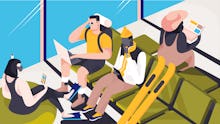 There is some irony to be found in the fact that booking a relaxing vacation online can be incredibly stressful. From sifting through countless travel sites that all claim to offer the best deals to navigating the logistics of flight connections, just getting your trip together can often feel like justification for a vacation in and of itself. And that's before you've even figured out how to get all of your clothing into a carry-on.
Making planning a getaway as breezy as tropical wind in your hair is often simply a matter of correcting some typical mistakes travelers make when booking a trip online. Adopt some of these habits, avoid these common pitfalls and you'll be in vacation mode well before you embark on your trip.
1. Spending time comparison shopping
"People spend far too much time trying to find a good deal," Matt Kepnes, the travel expert behind Nomadic Matt, said in an email interview. There are a couple widely accepted myths about booking travel floating around that Kepnes wants to dispel.
First, the idea that you get better deals by purchasing tickets on certain days of the week is bogus. "This is not true at all anymore with airlines' complex pricing algorithms," he explained. "One day is no better than any other day." Second, Kepnes noted that the difference in pricing between most booking sites is typically negligible. "If you've searched a few websites and all the prices come back the same, then that's going to be the price you're looking at," he said. "No other site is going to magically come back with a flight price hundreds of dollars cheaper."
In addition to Kepnes' tips, using a site that allows you to automatically check out using Visa Checkout makes the booking process more efficient and pain free.
2. Flying during rush hour
It is understandable to want a full night's sleep before a flight. However, according to the duo behind travel blog Hand Luggage Only known simply as Yaya and Lloyd, even shifting your travel time by a few hours can save you substantial cash.
"Take a look at unsociable-hour flights, [like] ones that depart at 5 a.m. rather than the one that departs at 10 a.m.," they advised via email. "They are nearly always cheaper." Less popular flight times also almost always promise a quicker security line and increase the chances that you can snag an exit row seat or, if you're really lucky, an upgrade.
3. Fearing the layover
It isn't only showing some flexibility in departure times that has its benefits. Extending that mindset to your timing between departure dates and travel routes, too, can come with perks.
"I can't stress enough how being flexible will save you money," Kepnes said. "If you're trying to get a direct flight to Paris on Dec. 23 to Jan. 2, you'll have to pay an arm and a leg. But if you can take a few extra days off and don't mind stopping over in a city on the way there and back, you can usually save a good chunk of money."
If planned correctly, layovers can be fun. You can squeeze in some eating, drinking or sightseeing in a place you may not have originally intended to visit. If you're lucky, you won't have to worry about exchanging cash at the airport. Making use of contactless payment options available on your mobile phone will keep you moving briskly and efficiently when you don't have all the time in the world. Just think of your layover like an appetizer to the main course, and amuse-bouche your way to a bonus mini-vacation.
4. Booking only the flight and accommodation
A vacation isn't only getting there and sleeping: There are more activities you can pre-book to maximize your experience. Do a little bit of research and make a couple reservations, and you'll be on your way to discovering some amazing gems at your destination.
Some travel experts suggest that planning an itinerary can be an essential lift for any trip. James Feess documents his travels on the site The Savvy Backpacker. As the name implies, he's quite clever, especially when it comes to pre-booking elements of his travel. As an example: "Lots of museums let you pre-book tickets, which will save you a ton of time waiting in line," Feess said in an email interview. "I know it sounds obvious, but a lot of travelers also end up spending a lot of money on subpar meals. Do your research so you don't end up eating at tourist traps."
If your holiday is all about fun and fancy-free spontaneity, you can still leave some meal slots open. But by upping the likelihood that you're guaranteed at least one good dinner, you'll be on your way to feeling well-fed and blissed-out long before there's a new stamp in your passport.