Putin replaces Sergey Kislyak — envoy at the center of Trump scandal — as Russian ambassador to US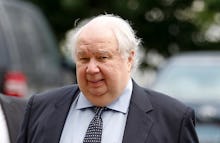 Russian President Vladimir Putin on Monday officially named a replacement to Sergey Kislyak — the ambassador whose meetings with high-ranking United States officials have made him a key figure in the Russia scandal that's engulfed President Donald Trump.
Kislyak is succeeded by Anatoly Antonov, the Russia's former deputy defense minister who was sanctioned by the European Union for his role in the country's annexation of Crimea in 2014.
The Kremlin announced in July that Kislyak would be leaving his post, a move Moscow said had been planned for months, and Russian state media reported then that Anatoly would take his place.
Russia made that official on Monday.
The contacts that a number of Trump officials, including former national security adviser Michael Flynn, had with Kislyak have figured prominently into the allegations that the Trump campaign colluded with Russia during the 2016 election.
Flynn was forced to resign in February, less than a month into Trump's presidency, after it was revealed that he had discussed then-President Barack Obama's sanctions against Russia with Kislyak.
Soon after, Attorney General Jeff Sessions was forced to recuse himself from matters relating to the Russia investigation after he was also found to have spoken with Kislyak during the campaign at least twice — despite testifying during his confirmation hearing that he hadn't.
Additionally, Jared Kushner — the president's son-in-law and senior adviser — has faced calls to have his security clearance revoked over contacts with Kislyak and other foreign officials he left off his SF-86 form granting him top-level security access.
Kislyak — who'd served as Russia's envoy to the U.S. since 2008 and has been accused of being a spy — met with Trump himself at the White House in May. In the now-infamous Oval Office meeting with Kislyak and Russian Foreign Minister Sergey Lavrov, Trump apparently revealed "highly classified information" while bragging about the intelligence he receives.
"I get great intel," Trump reportedly told the Russians. "I have people brief me on great intel every day."
Antonov — regarded as a tough diplomat — replaces Kislyak as Jon Huntsman also begins his tenure as the U.S. ambassador to Russia.
The two new diplomats take over amid tense relations between the two countries in the wake of Russia's attempted meddling in the 2016 election, apparently on behalf of Trump.
Russia has denied interfering in the U.S. election, and Trump has repeatedly dismissed the investigations into his campaign as a "witch hunt."