Two activists explain the personal nature of fighting to remove Confederate monuments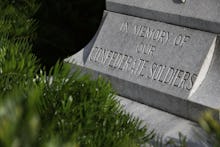 Welcome to Mic's daily read on Donald Trump's America.
Want to receive this as a daily email in your inbox? Subscribe here.
Tuesday's dispatch: Two communities grapple with whether or not to pull down Confederate monuments
Ten days after the violence in Charlottesville, Virginia, Mic has identified at least 49 movements nationwide that have removed or are pushing to remove Confederate monuments from public property in 2017.
Politicians, CEOs, celebrities and others have weighed in on the symbolism of Confederate monuments. President Donald Trump tweeted support for their preservation, calling them "beautiful" historical landmarks. Some Republicans and numerous Democrats labeled the statues as symbols of slavery and oppression.
That national debate obscures the local — and often personal — nature of city-specific movements to tear down the monuments.
Gene Wills' motivation to rid his community of Confederate monuments in Covington, Georgia, an Atlanta suburb of 13,000 people, is not driven by the alt-right or the president. Wills is motivated by his desire to feel like a "full citizen" of Covington, a Confederate city looted by Union General William Tecumseh Sherman during his 1864 March to the Sea.
"Those statues went up as a symbol of white supremacy," Wills said in an interview. "I served in the military for 20 years. I want to go anywhere and feel proud."
Wills, 59, said he started asking questions about the Confederate statue at a Christmas party last year. Covington is advertised as the "Hollywood of the South," with recent hits like Flight and Selma filmed there. But that history of progress is obscured, Wills argues, by a statue that celebrates oppression of African-Americans.
The story is similar in Bradenton, Florida, says Anthony Pusateri, 29. He spent most of his life in the Tampa suburb known for Tropicana oranges, world-class beaches and Snooty the Manatee — a 69-year-old city mascot that drowned in late July.
Pusateri started a petition that now has more than 13,500 signatures to replace a Confederate monument in Bradenton with a statue of Snooty. "Take this racist monument, move it to a better location ... and replace [it] with the positive symbol of something that did thousands of times more good than the Confederate army — that's Snooty," Pusateri told Mic.
Both Wills and Pusateri face opposition. In rural Georgia, the Covington statue still stands. County commissioners have said they will consider removing the statue if enough citizens express interest. Wills said some locals grumble that the statues are simply historical reminders, not symbols of oppression.
In Bradenton, local leaders covered up the obelisk outside the county courthouse ahead of a Monday night protest. Hundreds rallied to call for the monument's removal, with some counterprotesters standing quietly by with Confederate flags.
The county leadership voted against removing it, but supposedly out of legal concern, not a lack of desire to see it torn down. The Bradenton Herald reported a man was removed from the meeting for repeatedly yelling, "Americans build monuments! We don't remove them!"
Public officials in both communities did not return requests for comment from Mic.
Tuesday in Trump's America
In a prime-time address Monday night, Trump advocated a new strategy for the war in Afghanistan but did not offer specifics about how many more U.S. troops will return to the country or when America will end its longest war. In the past, Trump repeatedly called for U.S. troops to be withdrawn from Afghanistan.
Trump will speak at a Make America Great Again rally at 7 p.m. local time Tuesday in Phoenix. The community expects large protests, and Arizona Republican Gov. Doug Ducey is skipping the rally to focus on "working with law enforcement toward a safe event."
Watch to see if Trump attacks Sen. Jeff Flake, an Arizonan who has been critical of Trump for two years, on his home turf. Trump has already criticized Flake on Twitter.
A majority of Americans believe Trump mishandled the response to violence in Charlottesville, Virginia. A plurality believe he equated counterprotesters with white supremacists.
The Trump administration has canceled research into the health risks of coal mines.
Remains of some sailors have been found from the crash of the USS John S. McCain in the South Pacific.
In a town hall Monday night, House Speaker Paul Ryan (R-Wis.) criticized the Senate for its failure to pass health care reform.
Today's MicBite
Watch Mic's Jack Smith explain the history of Confederate monuments — why they were erected and what they stand for.