3 things to watch for during Donald Trump's Phoenix campaign rally on Tuesday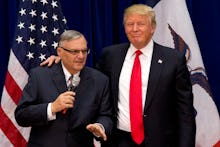 President Donald Trump will travel to Phoenix on Tuesday night for a campaign-style rally, a week after leaders on all sides of the political spectrum denounced his comments on a white supremacist rally in Charlottesville, Virginia.
Thousands of protesters are expected to descend upon the city to voice opposition to Trump — related both to his Charlottesville comments as well as rumors that he may announce a pardon of Joe Arpaio, a fiercely anti-immigrant activist and ex-sheriff who was convicted of criminal contempt for "flagrant disregard" of a federal judge's order.
The rally begins at 7 p.m. local time.
Here are three lingering questions we have leading up to the rally:
Which version of Trump will show up?
On Monday night, Trump delivered his first presidential prime-time address to the nation to announce his strategy for the war in Afghanistan. Standing before an audience of service members in Arlington, Virginia, he spoke in vague terms of his plans to maintain a military presence in the Middle Eastern country. His demeanor was measured and he stuck to the words on the teleprompter.
But Trump often feeds off the crowds he's addressing, and a rowdy audience, with the potential for interruptions by protesters, could veer Trump off course.
It's happened before.
After protesters interrupted his rally before the Nevada caucuses in February 2016, Trump said he'd like to punch one of the protesters "in the face" and reminisced about the days when protesters would be "carried out on a stretcher."
And in August 2016, after what was hailed as a subdued meeting with the president of Mexico, Trump went to Arizona to give a hard-line immigration speech in which he promised to deport "anyone who is in the United States illegally" — stepping on the positive press from the diplomatic meeting earlier in the day.
With Trump hoping to get his presidency back on track after Charlottesville, an unscripted Trump baited by protesters could cause more unwanted negative attention.
Will Trump pardon Arpaio?
Arpaio — who is known for housing inmates in outdoor tent cities in the scorching Arizona heat — was one of Trump's biggest supporters during the 2016 presidential election, campaigning alongside Trump to praise the then-candidate's stance on immigration and his proposed Mexican border wall.
In July, he was convicted of criminal contempt after he refused to enforce a court order to end racial profiling practices in Maricopa County, where he served as sheriff until losing re-election in 2016.
The protests are expected to be so fierce that Phoenix Mayor Greg Stanton wrote a Washington Post op-ed imploring Trump not to come to the city.
"America is hurting. And it is hurting largely because Trump has doused racial tensions with gasoline," Stanton wrote. "With his planned visit to Phoenix on Tuesday, I fear the president may be looking to light a match."
Arpaio told NBC News he has "no idea" whether Trump will pardon him Tuesday night, but protesters are gathering to denounce any such action, with one group of counterprotesters planning to hold up a sign that reads "White Supremacy Will Not Be Pardoned."
"Trump will be in Arizona and we want to send a very clear message that we will not pardon white supremacy the way he has done so with #Charlottesville and now with Joe #Arpaio," activists from Puente Human Rights Movement wrote in their Facebook group for the event.
Will Trump feud with Arizona Republican Jeff Flake?
Republican Arizona Sen. Jeff Flake has been vocal in his opposition to Trump's response to the Charlottesville white supremacist rally.
And Trump has responded in kind, calling Flake "toxic" and voicing support for Flake's primary opponent, Kelli Ward.
Flake is one of the most vulnerable Republican senators up for re-election in 2018, but Senate leadership has coalesced around Flake, vowing to support his re-election, even if Trump doesn't.
Senate Leadership Fund, a super PAC aligned with Senate Majority Leader Mitch McConnell, released an ad on Tuesday attacking Ward as a conspiracy theorist.
Republican leaders will be watching to see how Trump responds.