Finally, plus-size women are getting the calendar they've long deserved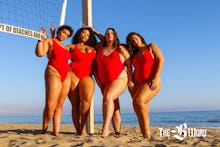 Brianna McDonnell, a plus-size fashion blogger over at the B Word, wanted to honor the legacy of the fashion calendar, but also create a space where plus-size women can be celebrated and seen in an artful and beautiful way.
So she's created the #BeInYourSkin 2018 plus-size editorial calendar, which features exclusively plus-size bloggers and influencers and friends in imagery unlike any she's seen herself.
"I love inspiring self-love and confidence in others but I'm inspired everyday by fashion," McDonnell said in an email to Mic. "I was obsessed growing up with Vogue, Elle, V magazine. It's the fantasy of fashion, the storytelling of editorial fashion spreads that I loved. The idea... came organically. Putting my love of fashion editorials, with my love of empowering and inspiring body confidence in women into one, affordable, tangible project for my following was the inevitable next step for #BeInYourSkin."
The calendar itself shows all different types of plus-size women — 25 in total — in editorial shoots that reflect the season, as well as monthly inspirational quotes.
"As first and foremost a theater director and performer, who loves to blog on the side, the ideas for the shoots were just different scenes I wanted to create," McDonnell said. "I thought about what I wanted to see and what I wanted to create, style and make come to life. I wanted to include women who are not only bosses in their fields, but [who are] kind, smart, funny, creative and, most importantly, here for the cause. These women each use their platform to inspire and empower people, with a positive message of self-love and body confidence."
And rather go with cheesy or sexed-up images, McDonnell strove towards diversity, casting plus-size women in different kinds of light.
"I wanted to create images of plus-size women that were creative, different, sexy, artful, strong, empowering and editorial," McDonnell said. "It's very rare to see a plus-size body in the media portrayed in an editorial way. I found my confidence in fashion, that's why I started blogging. I wanted to create something for plus-size women, where they could see themselves in the images. If they could see themselves in one of us, they too can be as strong, powerful and glamorous. It is about representation."
McDonnell's target customer is someone who feels like they need it. "My ideal customer is someone who will hang this on their wall and pass it everyday and have it be a reminder that they're enough, they're fierce and they can truly do anything at any size and shape," McDonnell said.
The calendars go on sale Wednesday at 10 a.m. via McDonnell's website.