Peggy Noonan is the latest conservative pundit to head to MSNBC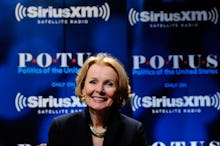 Peggy Noonan, a conservative columnist at the Wall Street Journal, has joined NBC News and MSNBC as a contributor, the cable channel announced Sunday.
Noonan made her first appearance as an official contributor on Sunday's episode of NBC's "Meet the Press," during which host Chuck Todd announced her arrival.
"Peggy is now an NBC analyst, so with that, welcome to the team," Todd said.
Noonan's hire and the news that she would contribute to both NBC News and MSNBC was first reported in the Tuesday edition of Politico's Morning Media newsletter.
Noonan, a former speechwriter for former President Ronald Reagan and the winner of the 2017 Pulitzer Prize for commentary, has been sharply critical of President Donald Trump in her weekly "Declarations" columns at the Journal. She will remain a Journal columnist, a company spokesperson confirmed.
Noonan, who is also the author of several nonfiction books about politics, will join a growing stable of conservative commentators and show hosts at MSNBC, which began reinventing itself as a centrist news outlet before Trump's election reinvigorated the channel's outwardly liberal primetime hosts.
The hiring of conservative voices at MNSBC in particular has prompted some criticism from people both inside and outside of the company, which once had a reputation of being a reliably left-leaning channel. Several MSNBC insiders told Mic in July that some of the conservative hirings have been driven by a desire to appeal to a wider audience on both sides of the political aisle, as well as an effort to bring Republican lawmakers to the channel.
Noonan has regularly appeared on NBC's "Meet the Press" as a guest for several years.
It's unclear how often Noonan will contribute, and on which programs she will appear. Spokespeople for NBC News and MSNBC did not immediately respond to requests for comment. This story will be updated with more information if Mic hears back.