The 'Village Voice,' the nation's first alt-weekly, ends print publication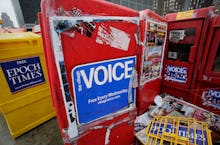 The Village Voice, the country's first alternative weekly newspaper, is shuttering its print edition, owner Peter Barbey announced Tuesday.
Founded in 1955, the legendary New York newspaper will maintain a digital presence and will soon roll out "a variety of new editorial initiatives and a full slate of events," according to a company release. Barbey also said the paper is looking into "a number of potential partnership opportunities" to be announced in the next several months.
The move was described as "laying the groundwork for this next phase in the Voice's existence."
"When the Village Voice was converted into a free weekly in an effort to boost circulation back in 1996, it was at a time when Craigslist was in its infancy, Google and Facebook weren't yet glimmers in the eyes of their founders, and alternative weeklies — and newspapers everywhere — were still packed with classified advertising," Barbey said in a prepared statement. "Clearly a lot has changed since then.
"That business has moved online — and so has the Voice's audience, which expects us to do what we do not just once a week, but every day across a range of media, from words and pictures to podcasts, video and even other forms of print publishing," Barbey continued. "This decision will allow us to move forward more freely in our pursuit of all of those avenues so that the Village Voice brand is not just once again viable, but vital."
The Village Voice is one of the best-known alt-weeklies in the country, recognized for its sharp coverage of culture and politics and once heralded as a launching pad for promising young journalists. The paper has won three Pulitzer Prizes and several other journalism awards over the years.
Barbey purchased the paper in 2015 after a string of ownership changes and financial hardships, and some hoped the acquisition might help revive the paper to its former glory. The paper's website was redesigned in May.
Barbey has sought to dramatically weaken the union contact for Voice employees. In July, former Voice staffers wrote an open letter imploring Barbey to "meet [union] members with a fair and reasonable contract, upholding their hard-won rights and benefits." Soon after, the union crowdfunded more than $7,000 in the event of a strike.
The paper has also faced a high turnover rate among its top editors.
The news comes as other alt-weeklies around the country face industry pressures that have made free print papers hard to sustain. In July, the Tronc-owned Baltimore Sun shut down its alt-weekly, City Paper, citing declining advertising revenue.