Queen Naomi Campbell expertly shades British 'Vogue' for its super-white staff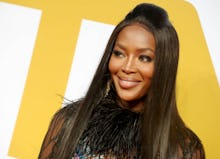 On Tuesday, model Naomi Campbell took time out of her busy day as a supermodel, icon and philanthropist to throw some expert shade at British Vogue. She did this by way of posting a single photo of British Vogue's final staff photo with editor-in-chief Alexandra Schulman before Campbell's friend, Edward Enninful, takes charge of the glossy.
"This is the staff photo of British Vogue under the previous editor #AlexandraSchulman," she wrote, matter-of-factly, on Instagram. "As you can see, the team is overwhelmingly white."
"Looking forward to an inclusive and diverse staff now that Edward Enninful is the editor," Campbell continued. "Let's hear your thoughts?"
Since it was announced back in April that Enninful would be taking the reigns of British Vogue, he's been working to bring in a ton of extremely talented people of color from the fashion industry to help manage the magazine. Campbell was named a contributing editor, for instance; makeup empress Pat McGrath was named beauty editor-at-large.
Enninful has a lengthy reputation for boosting the talents of people of color within the fashion industry. "If you put one model in a show or in an ad campaign, that doesn't solve the problem," Enninful said in a 2016 Time interview with Campbell. "We need teachers in universities, we need internships, we need people of different ethnic backgrounds in all parts of the industry. That really is the solution, you have to change it from the inside." 
As far as Campbell's Instagram post, plenty of people let their thoughts be known. "This change is long overdue. Can't wait!" one commenter wrote. "All I saw was white faces, baby, let's SPICE it up," another chimed in.
By the looks of it, plenty of people are waiting for Enninful to bring some change.