'Hot Mic' podcast: Trump's Afghanistan strategy, poll asks Americans about neo-Nazi views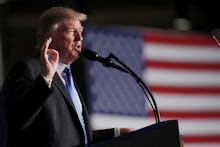 Listen and subscribe to the Hot Mic podcast from your mobile device:
Here are the important stories to know for Wednesday, August 23:
1. President Trump laid out his military strategy for the war in Afghanistan.
2. Nearly 10% of Americans say it's "acceptable" to have neo-Nazi or white supremacist views, according to a new poll.
Direct from Mic's newsroom, Hot Mic keeps listeners informed with a daily run-down of top stories, breaking news and analysis from our news team.