At Phoenix rally, Trump hints at his intentions to pardon Joe Arpaio, goes after media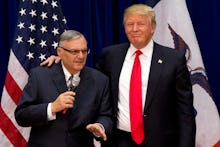 In a lively and inchoate speech to supporters in Phoenix on Tuesday night, President Donald Trump all but promised that he will pardon the controversial former Maricopa County, Arizona, Sheriff Joe Arpaio.
"I'll make a prediction," Trump said in reference to the recently convicted former sheriff. "I think he's gonna be just fine, OK?"
In July, Arpaio was found guilty of criminal contempt for his treatment of undocumented immigrants in his custody.
Earlier that day, White House press secretary Sarah Huckabee Sanders claimed that, despite rumors, Trump had no plans to pardon Arpaio at the rally.
"I won't do it tonight because I don't want to cause any controversy, all right?" Trump said. "But Sheriff Joe can feel good."
Though the rally was initially billed as a speech about immigration policy, Trump spent a significant part of the 76-minute speech defending himself against criticism of his response to the racially charged violence at an alt-right rally in Charlottesville, Virginia, earlier this month.
In a lengthy and awkward aside, Trump reread the series of statements he gave in response to the rally, which he punctuated with clarifications and jabs at the "dishonest" media, deliberately glossing over the portions of his remarks that generated the most controversy.
Trump spent considerable time lobbing attacks at the press over coverage of his presidency, at times directing attention to the news camera pool, claiming they were shutting the live cameras off in order to silence him.
At one point, he even expressed outrage over CNN's decision to fire conservative commentator and Trump-partisan Jeffrey Lord, referring to him as "poor Jeffrey." Lord lost his job with the network after tweeting a Nazi salute at one of his critics.
Only after considerable focus on the media and Charlottesville did he eventually shift his remarks to immigration before again pivoting to everything from the Senate filibuster, to the legal troubles of former Obamacare health care adviser Jonathan Gruber.
Outside the Phoenix Convention Center, as many as 10,000 people gathered to protest Trump and his agenda, demonstrations Trump repeatedly dismissed in his speech, insisting "not that many people showed up."