Meet Liris Crosse, one of the plus-size models making history on 'Project Runway'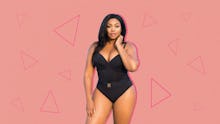 Model Liris Crosse might be psychic.
After walking the runway in Ashley Nell Tipton's Project Runway finale show at New York Fashion Week back in 2015, Crosse claims that she said to her agent, "Wouldn't it be awesome if they could include plus models in the competition?" Two years later, and here she is, making history as one of the plus-size models on Project Runway this season.
In seasons past, the only time Project Runway designers dressed women above about a size 6 was when they'd have a "real woman" challenge. But now, on a weekly basis, we get to watch the designers grapple with dressing women who are sizes 8, 10 and 14 and of various measurements. But even when Crosse learned she got the gig in May, she didn't know just how groundbreaking this season would be.
According to Crosse, she didn't know whether she'd be the only plus model in the competition. "To know that I booked the job, I was just like, 'Oh my gosh, I'm about to make history again doing what I love,'" Crosse said in an interview. "I love being me, my curves and who I am. I love being a black woman. I love being a plus-size woman. And to walk in there and to see the other models, it just made my soul leap. My heart smile. It was surreal. All these women of all these different sizes and colors and proportions."
Indeed, there are women who may be a size 2 up top, but a size 6 at their hips. There are women who are shorter. Among the plus-size women, their body shapes vary.
"Not only do they have a beautiful array of plus-size bodies and shapes, but racial diversity and size diversity within the straight-sized models as well," Crosse said. "There's one girl who has a 26-27 inch waist and then 38-inch hips. Jazzmine is a little fuller in the middle. And then my body shape is different than Monique, because she's a pear shaped."
This season, we get to know the models a bit more too, with the help of the "Model Mirror" which is like a confessional for the models to talk about the designs they'll be wearing.
"A lot of times people think models are dumb or don't know anything about fashion," Crosse said. "I've even read the comments about us on the Project Runway Facebook. And there are people there being like, ugh, I don't want to hear what they have to say. But a lot of time, the models, we can tell you that this works in your design, or this doesn't."
Crosse herself has roughly 20 years of modeling experience, being one of the original plus-size models signed to Wilhelmina back in the '90s. Since then, she's walked runways here and there, gotten some campaigns. But this Project Runway season is a different beast entirely, because of the platform it gives her to speak out about the awkward realities of being a plus-size model.
In the first episode, for example, Crosse is teamed up with the designer Brandon Kee, who openly admitted that he's barely designed womenswear, and never anything plus sized. According to Crosse, plenty other designers were hesitant of dressing her throughout the show too.
"I would just say that feelings-wise, I can definitely see who was apprehensive about designing a plus-size woman," Crosse said. "I was Brandon's first plus-size model he's ever designed for, and you're going to see people on the show be 'de-virginized' a few more times. They're going to have their first plus model."
Ultimately, Kee ended up designing one of the judges' favorite looks: a loose camouflage crop top with an athletic-inspired pink skirt with a high slit. And in making a designer like Kee design for Crosse, Project Runway is really doing designers like him a favor.
If these designers want to make money, and design for as many women as possible and therefore have as many customers as possible, then yeah, they should get used to designing for a plus-size body.
"I feel like this season will encourage some of those students who are now at FIT and other design schools to think about embracing fuller sizes in their designs and in their collections," Crosse said. "Not only the up-and-coming [designers], but the old-school designers as well. I am praying that this season shows that having size diversity on the runway and in major campaigns should be the norm."
If they're hesitant of that even a little bit, then they should look to Project Runway alum Christian Siriano, who's made a name for himself via inclusive runways and collections.
But back to Crosse and her own impact as a model on the show. Just one episode in, and she's realizing just how important her presence is going to be on the show.
"I've had, just this week, women say, 'Just watching you on this show this past week has made me look at different choices for what to wear and given me a bit of extra confidence in choosing what to wear,'" Crosse said. "I even had a girl who was 13 years old reach out to me and say, 'Thank you for being a visible representation that I'm OK as who I am. I'm valid and I'm beautiful and I don't have to starve myself to be a certain way.' To get something from a young girl and know that I have an impact on how she sees herself makes it clear that I didn't do all this work in vain."
You can see more of Crosse every week on Project Runway, which airs on Thursday nights on Lifetime.