In an Arizona border town, locals question Donald Trump's rhetoric up the road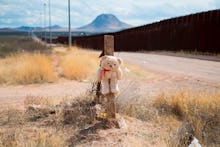 This is Mic's daily read on Donald Trump's America. Want to receive this as a daily email in your inbox? Subscribe here.
Every day, we bring you a different dispatch on Trump's America. Today's focus: A border town.
Wednesday's dispatch: An Arizona border town questions Trump's call for a wall
President Donald Trump reprised his greatest hits at a Make America Great Again rally Tuesday night in Phoenix.
The president attacked the "dishonest" media. He signaled he may pardon former Maricopa County Sheriff Joe Arpaio. And, speaking in a state that borders Mexico, Trump pledged he would do whatever it takes — including shutting down the federal government — to get the cash to build a wall along America's southern border.
But 232 miles to the southeast of Trump's rally, there is no consensus that the U.S. needs to toughen up its relationship with Mexico.
In Douglas, Arizona, 80% of traffic is driven by travel in and out of Mexico. Seventy percent of the city's tax revenue comes from Mexican visitors. Douglas' local paper reported in March that a weak peso has contributed to fewer Mexicans spending money in the U.S. As a result, retail receipts and tax revenues were down in 2016, officials told Mic.
They also pointed to another factor: fear of Trump's wall.
"The relationship with Mexico is vital," Mayor Robert Uribe, a 33-year-old immigrant from the Dominican Republic, said. "When the president won the election, I literally had people that were crossing legally to the U.S. saying, 'Look, I'm going back to Mexico. I don't feel welcome anymore.'
"This wall could create that same feeling, that same fear."
Uribe's opposition to a wall is a disputed viewpoint in southeast Arizona. In 15 of the last 17 general elections, Cochise County — 6,200 square miles of sparsely populated desert — has supported the Republican presidential candidate. Trump beat Hillary Clinton there by more than 20 points.
It was one of seven counties Trump won out of the 23 counties along the U.S. border with Mexico.
Alex Espinosa, who is from Douglas but owns a funeral home in a nearby city, criticized Uribe for support of what he calls "open borders."
"I've been in the funeral home business 36 years," Espinosa said. "I've seen a lot of stuff."
Espinosa cited fears that could be folded into a Trump stump speech: women raped and murdered, border patrol agents injured by smugglers, drug-related homicides.
That contrasted with Jim Russell's view of the country. A registered Republican from Oklahoma, Russell moved to Douglas in late 2016 to take over the city manager position.
"My perceptions of a border community were totally distant from the reality that I live in my life," Russell said. "Living in that community forces you to start thinking differently."
Russell said Douglas, a city of 16,000 people, considers Aqua Prieta, the town just over the border, its "sister city." The discussion of a wall has hurt the local economy, he said, adding that Douglas is a "binational" town — not solely rooted in the U.S.
"I go to the dentist in Mexico, I go to eat in Mexico, I shop in Mexico," Russell said. "Because of where we're at, you can't separate the two."
Today's question: Do you think the costs of a border wall to communities on the U.S.-Mexico divide are worth it to the rest of the country?
Wednesday in Trump's America:
The president blasted the "damned dishonest" media at his Phoenix rally. By the Washington Post's count as of Tuesday, Trump has made more than 1,000 false or misleading statements since taking office.
A day after his primetime Afghanistan address, Trump refocused on his old campaign attacks. His repeated attacks on the media were accompanied by condemnation of far-left protesters, a defense of Confederate monuments, support for Arpaio and a critique of the CEOs who left his manufacturing council. Thousands of supporters cheered and booed on cue.
Without naming them, Trump led the crowd to jeer Arizona's two Republican senators, John McCain and Jeff Flake. Protests outside the rally were broken up with tear gas.
Former national intelligence director James Clapper questioned Trump's fitness to hold the nuclear codes after Trump's rally Tuesday.
Twenty-eight million people watched Trump's Afghanistan speech. That's down from 40 million for Barack Obama's address on the war in 2009.
There is a "cold war" between Senate Majority Leader Mitch McConnell and Trump. That could wreak havoc on the agendas they both have.
MSNBC adds another conservative voice.
Since the violence in Charlottesville, Virginia, our analysis shows a 200% increase in the number of Confederate monuments removed this year.
The U.S. Navy will relieve a vice admiral after four collisions in the Pacific since January.
Today's MicBite:
The president's new Afghanistan strategy does not mesh with what he has said in the past.