Trump's attacks on his own party threaten to derail his entire agenda and put GOP at risk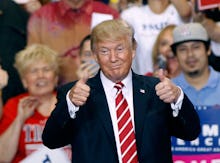 President Donald Trump's feud with members of his own party is spilling out into the public eye — a fight that further threatens his already stalled agenda, and in turn his party's prospects in the 2018 midterm election.
Trump's attacks are mostly focused on members of the Senate, including vulnerable Arizona Republican Sen. Jeff Flake and Senate Majority Leader Mitch McConnell, the powerful Kentucky Republican who is now in a cold war with Trump, according to a New York Times report.
And Republicans as well as non-partisan analysts say that fight will continue to keep the brakes on Trump's floundering agenda.
"It's a simple question of, 'Did last night help advance tax reform, help advance funding for the wall, help in any part of Donald Trump's agenda?'" GOP strategist Evan Siegfried said in an interview. "And the simple answer is no."
Friendly fire
While Trump is feuding with McConnell, his public attacks are mostly centered around Flake — a vulnerable Senator up for reelection in 2018 who wrote a book excoriating Trump and his party's embrace of him.
"We pretended that the emperor wasn't naked," Flake wrote of Trump in his book titled Conscience of a Conservative: A Rejection of Destructive Politics and a Return to Principle. "Even worse: We checked our critical faculties at the door and pretended that the emperor was making sense."
And Trump has responded in kind, expressing support for Flake's Republican primary opponent, Kelli Ward, and attacking Flake as "weak" and "toxic" on Twitter.
Trump went on to attack Flake by name in a Wednesday morning tweet, saying he's "not a fan" of Flake because he is "weak on crime & border."
That attack came the morning after his rally in Phoenix — a city in Flake's home state — in which Trump patted himself on the back for attacking Flake without saying his name.
"Nobody wants me to talk about your other senator who is weak on borders, weak on crime. So I won't talk about him," Trump said, referring to Flake. "Nobody wants me to talk about him. Nobody knows who the hell he is. So now — I haven't mentioned any names — so now everybody is happy."
"If anything, last night he further isolated himself from Congress and gave them more reason to not do what he wants," Siegfried said. "This is purely self-destructive."
A super PAC tied to McConnell is sticking up for Flake, spending money on an attack ad against Ward.
Democrats are thrilled by Trump's attacks on his own party.
They say the infighting will continue to stall Trump's agenda.
"Republicans have been in total control of Washington for over seven months now, and they have nothing to show of it except a toxic health care agenda," David Bergstein, a spokesman for the Democratic Senatorial Campaign Committee, said in an interview. "The fact that Republicans have nothing to run on and are breaking their promises will drag down Republican Senate candidates across the map."
Bergstein added that expensive primary battles also spread Republican resources thin — which would give the GOP less resources to fight against Democrats in the general election.
"Republican on Republican intraparty fights are going to become even more divisive and even more expensive for the GOP," Bergstein said.
Democrats face structural challenges
Republicans have reason to try and mend the relationship with Trump.
Historically, midterm elections are a referendum on the president and his party.
And if Trump's approval ratings — currently hovering in the high 30% range — continue to slide, that could have negative impacts on the GOP at the ballot box in 2018.
Still, analysts say the GOP isn't really at risk of losing control of the Senate in 2018.
Democrats would need to net three seats in order to win back control. And that will be hard given that Democrats are defending many more seats than Republicans — a number of which are located in states Trump carried by wide margins in the 2016 elections.
But an unpopular Trump could help Democrats mitigate losses in 2018. Those losses could be further mitigated if Republicans such as Flake and fellow vulnerable GOP Sen. Dean Heller of Nevada lose their reelection bids.
And that could put Democrats in position to win back control of the Senate in 2020.
"Politics requires good will — it's pretty simple," Stu Rothenberg, a non-partisan political strategist, said in an interview. "And if you're mean and threatening and angry and you get very personal, it can threaten goodwill. That could have an effect on the legislative agenda and could have an affect on the midterm elections, setting up Democrats to take back the Senate in a few years."