The conspiracy-peddling "Blacks for Trump" guy has links to other Republicans, too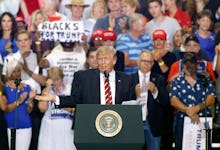 Maurice Symonette — the cult member-turned-racial conspiracy theorist who says Hillary Clinton is in the Ku Klux Klan and Barack Obama is "the Beast" — once again showed off his love for Donald Trump at the president's Arizona rally Tuesday.
Holding a "Blacks for Trump" sign on stage behind Trump, the guy who calls himself "Michael the Black Man" (but who also goes by several other names) enthusiastically cheered as the president attacked his enemies — real and perceived — in the media and beyond in Phoenix.
But Symonette — who with the cult Yahweh Ben Yahweh was reportedly once charged but acquitted of conspiracy to commit murder in the 1990s, and currently promulgates bizarre conspiracy theories on his website — doesn't only bring his over-the-top, anti-"Demon-crat" message to Trump rallies.
Indeed, he appears to have been associating with prominent far-right activists and Republican politicians — including some currently in office — for several years.
Who is the "Blacks for Trump" guy?
Symonette's appearance behind Trump on the stage Tuesday wasn't the first time he figured prominently into a Trump rally.
At an October campaign event in Symonette's home state of Florida, "Michael the Black Man" held a similar "Blacks for Trump" sign as the then-Republican nominee spoke.
"Those signs behind me — 'Blacks for Trump' — I like those signs," Trump said, giving a thumbs up to Symonette, who returned the gesture. "Those signs are great. Thank you."
Symonette's past quickly came to light after his cameo at the rally, thanks to reporting by the Miami New Times. It was revealed that Symonette, under the name Maurice Woodside, had been a member of the Yahweh Ben Yahweh cult, which was responsible for 14 killings and two attempted killings — including a decapitation. The New Times — who'd written about "Michael the Black Man" in a story on Yahweh Ben Yahweh before — reported that he'd changed his name in the years after his acquittal on conspiracy charges from Woodside to Symonette and reinvented himself as a fringe, gay-bashing right-wing political activist.
At that 2016 rally — and at the Arizona rally Tuesday — Symonette wore a shirt defending Trump and Republicans against racism accusations and promoting a website called gods2.com, which contains an array of outrageous conspiracies and bizarre, bigoted diatribes against Native Americans and others.
"Cherokees are the real KKK Racist Slave Masters, not White Gentiles who are Black Peoples Republican Emancipators!" Symonette writes on the sloppy website. "Gentiles & Blacks were in America 1st. before Cherokees & we don't owe them Reparations."
In another section of the website, Symonette accuses Cherokee Native Americans of being "KKK Slave Masters" and suggests Clinton — Trump's 2016 opponent — has been conspiring with ISIS to kill "all black and white woman of America." He also accuses Republican Arizona Sens. John McCain and Jeff Flake — both of whom have been critical of Trump — of being "Cherokee Republicans."
His theories — which he frequently puts forth in lengthy, rambling YouTube videos — tend to include references to religion as well as shoutouts to Yahweh Ben Yahweh, which he insists is not a cult.
Symonette has, on numerous occasions, defended Trump — including in a video of him and other supporters holding "Blacks for Trump" signs outside the Super Bowl in February. While the strange videos are cheaply produced and often nonsensical, some appear to show that "Michael the Black Man" has had contacts with big name Republicans — including the president — before his appearances at the two Trump rallies.
Symonette's ties to Trump, other Republicans
A video posted to YouTube by Symonette — who is also a musician — shows him performing, apparently before an appearance by then-reality star Trump at a Tea Party rally in 2011.
In 2010, Symonette had attended conservative firebrand Glenn Beck's Washington, D.C., Restoring Honor rally — videos of which were posted to Beck's TheBlaze, according to Media Matters for America. The videos were described as showing "black conservatives taking a real stand in the face of adversity."
While Trump and Beck were big conservative names at that point of the Obama administration, neither was an elected official.
But Rick Santorum had previously been a Republican senator from Pennsylvania when he reportedly invited Symonette to open for him at a Florida rally during his failed bid for the GOP presidential nod in 2012.
"[Democrats] are the worst thing that ever happened to the black man," Symonette said over a jazzy beat. "They're the slave masters."
Symonette — who also promotes what he describes as "jet ski parties," videos of which he posts to his YouTube channel — has also popped up in the politics of his home state, Florida.
He appears to have performed outside a Coral Gables campaign event for Gov. Rick Scott in September 2014, at one point standing before a crowd outside a restaurant called Wings Plus with his arm around the governor, who is still in office and is an ally of Trump.
Another video posted by "Michael the Black Man" — this one in June — appeared to show Scott telling him that he "made sure I won in 2010."
"My band's gonna play for wherever you need us to play again," the video seems to show Symonette telling the governor.
On Wednesday, the Washington Post reported that Scott also met Symonette at a Mar-a-Lago event this year hosted by the Palm Beach County Republicans, apparently telling the conspiracy theorist that he "saw you on TV with Trump. You did a good job."
A spokesperson for Scott reached by phone Tuesday did not respond to questions about Symonette's appearances with Scott by press time, but said in a statement that the governor "has been clear that in Florida, we do not tolerate racism, violence or hatred."
"Those kinds of views are not welcome at any event involving the governor," Scott's spokesperson said.
It's not clear how official Symonette's cameos at Republican events have been over the years, nor is it clear how he has twice ended up behind Trump at rallies, in clear view of news cameras. Symonette did not respond to an emailed request for comment from Mic on Tuesday.
But, the Post reports, it is clear that Symonette "loves President Trump. And President Trump's campaign apparently loves him right back."