What Melania Trump wore her 31st week as first lady — the 2 times we saw her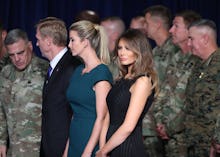 After being nowhere to be found for days and days, Melania Trump has returned to the spotlight once again.
Appearing a handful of times this week, Trump managed to surprise us a bit with her fashion choices. She wore colors other than black, white and beige. She wore a new silhouette. Of course, she stuck to her favorite high-end shoe designers and enormous sunglasses, but hey, at least we got something.
Here's what Melania Trump wore this week.
Sunday, Aug. 20: A Delpozo dress for returning to Washington
After days of fashion we were never able to see, Trump arose out of hiding in a white, beige and yellow sundress by Delpozo, a Spanish label.
This isn't the first time she's worn Delpozo, either: She wore a graphic, multicolored dress from the brand before the G20 Summit in July.
Monday, Aug. 21: A pinstripe Jason Wu for watching the eclipse
Now this is an interesting outfit, not really for the design itself — a modern, criss-crossed pinstripe, knee-length dress — but because of the designer: Jason Wu.
Wu was one of Michelle Obama's favorite designers from the very beginning. He created both of her Inaugural Ball looks, and even designed that red dress she wore on Inauguration Day in January.
Now here is Trump, wearing the Taiwanese-born designer for the very first time as first lady.
Though he's spoken out multiple times about dressing Obama, Wu hasn't yet revealed his thoughts about dressing Trump, apparently choosing to stay neutral.
You can see previous recaps of what Melania Trump wore here.