Afghan war by the numbers: Here are the statistics behind the longest war in US history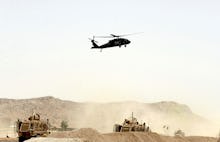 President Donald Trump reaffirmed Monday the U.S. military's ongoing presence in Afghanistan, as he announced during a prime-time address that he would not be withdrawing troops from the region.
Monday's address was the latest development in the long-running history of the Afghan war, which began in 2001 and has since become the longest military conflict in U.S. history. The war initially began in the wake of 9/11, as then-president George W. Bush sought to target the Taliban government and Osama bin Laden.
Though former President Barack Obama had hoped to end the war during his years in office, U.S. military presence in the region has endured. Director of national intelligence Dan Coats noted in May that the security situation in Afghanistan is only likely to get worse, as the U.S.-backed Afghan government only controls approximately 57% of the country and continues to rely on international support amid ongoing corruption.
Here are some key numbers and statistics behind what some have dubbed the United States' "Forever War."
16
Number of years since the United States first invaded Afghanistan in October 2001.
2,403
Number of U.S. military fatalities in Afghanistan since 2001, according to Operation Enduring Freedom.
140,000
Peak number of U.S. and NATO troops stationed in Afghanistan during the war in 2010, according to the Associated Press.
8,500
Number of U.S. service members in the region, according to the Washington Post. During his address Monday, Trump said he'll send up to an additional 4,000 troops to Afghanistan.
31,000
Approximate number of Afghan civilians killed as a result of the war through August 2016, according to Brown University's Cost of War project. An additional 41,000 civilians have been also been injured in the war.
$783 billion
Total amount spent on Afghanistan in direct war appropriations through fiscal year 2016, according to the Cost of War project. The group estimates that when taking long-term finances into account, such as veteran care and interest on debts, the war's total cost may actually be approximately $1.8 trillion.
$117.26 billion
Amount appropriated for Afghanistan relief and reconstruction since 2002, according to the Special Inspector General for Afghanistan Reconstruction.
The Washington Post reported that amount has included several failed uses of U.S. taxpayer funds, including $8.5 billion spent on Afghanistan's still-thriving illegal narcotics economy, $1 billion in funds earmarked for education that went to warlords and corrupt officials and $6 million on a failed plan to stimulate the country's economy using cashmere goats.
10,000,000
Number of Afghan girls reported to be enrolled in secondary education in 2013, as compared with slightly over 2 million in 2002 and "virtually none" in 2001, according to the Brookings Institution.
62
Life expectancy for men in Afghanistan (64 years for women) in 2010, as compared with 42 years in 2004, according to the Brookings Institution.
59,472
Number of Afghan asylum applications in 2014, compared with 52,485 in 2001, according to the Brookings Institution.
66
Percentage of Afghan people who believe the country is going in the "wrong direction," compared with 29% who said it's going in the right direction, in 2016, according to the Brookings Institution. Only 21% of people believed the same in 2006.