How one DA candidate in a crowded race is trying to shape the future of criminal justice reform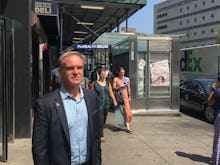 Mic's Navigating Trump's America is profiling some of the most unique candidates emerging for upcoming political elections, as well as identifying key races to follow as the midterm elections draw near. Stay tuned.
In November 2014, New York City police officer Peter Liang shot and killed Akai Gurley, an unarmed 28-year-old black man who was walking down a dark stairwell in the Brooklyn public housing unit where he lived.
The shooting provoked outrage throughout the city and across the country. More than a year after his grand jury indictment on five criminal counts, Liang was convicted of manslaughter and official misconduct on Feb. 11, 2016, an outcome that had come to seem increasingly rare in police shooting cases.
When it came time to sentence Liang, many were surprised when Ken Thompson, Brooklyn's progressive district attorney, recommended that Liang be spared jail time and instead be punished via a mix of probation and community service. Marc Fliedner, a member of the team that prosecuted Liang, resigned shortly thereafter.
"My recommendation, firmly, was that we treat Peter Liang the same way we would anybody else [who] was convicted of that offense," Fliedner told Mic in an interview.
"To the community, we had sent the message that we were taking police accountability seriously, and we had sought and obtained this indictment and conviction under stressful dynamics," Fliedner added. "And then, frankly, we pulled the rug out from under those in the community who were excited that somebody was taking this on."
For Fliedner, the move was more than an affront to the movement fighting for reform in the criminal justice system. It was an ethical breach of which he could not be a part.
"I realized that it was the first time in my career that I had been personally confronted with an ethical dilemma, and there really wasn't much of a dilemma for me at all," Fliedner recalled. "I said, 'I'm not going to do this anymore.' I'm going to leave the office, I'm going to start with nothing really set up. I need to take a stand on this."
Now Fliedner is mounting a campaign to run the office he once left in protest.
Across the country, advocates of criminal justice reform are focusing their attentions on district attorney races as the next big political battleground in the struggle to fix America's broken system. Victories by reformers in places like Chicago and Philadelphia have emboldened activists who hope to change a political culture that, until now, only rewarded tough-on-crime elected prosecutors.
And nowhere are the contours of that debate clearer than in the race to become top prosecutor in one of the most diverse places in the country — Brooklyn, New York.
Following Thompson's untimely death in October, a crowded field of Democratic replacements lined up to jockey for the vacant position, each touting platforms with varying commitments to reform. But Fliedner hopes to emerge as the only candidate ready to stand with reformers on every issue, from ending cash bail to supporting the movement for black lives.
"My place is at the frontline of reform," Fliedner said in describing his role in the field. "People are looking enough at the criminal justice system to do their homework and see what's broken. I am coming at it from a front-row seat."
On the right lapel of his suit jacket, Fliedner wears a rose pin signifying his membership in the Democratic Socialists of America, a growing force within the American political left.
Over the weekend, Fliedner was endorsed by Our Revolution, the grassroots progressive group that grew out of Sen. Bernie Sanders' presidential campaign. "Our country needs leaders like Marc who are dedicated to fixing our broken criminal justice system," executive director Shannon Jackson said in a statement. And while Fliedner's outsider position in the race seems at odds with his career in the DA's office, Fliedner has been shaping his political convictions for a long time.
Fliedner said he was inspired in college by the book Against Our Will: Men, Women and Rape, an early treatise in the anti-sexual-assault movement written by feminist journalist Susan Brownmiller. In 1987, Fliedner began his public prosecutorial career as an advocate for survivors of sexual assault.
At the time, Fliedner said, prosecutors and legislators were just starting to treat sexual assault as a serious crime to be pursued vigorously by law enforcement at all levels. But even from this vantage point, Fliedner saw problems with the way the prosecutorial system was carrying out justice.
"I saw [assault survivors] used as chess pieces in some political game to score points, and then set aside when the time for scoring those points is not as significant," Fliedner said. "It's the over-politicization of the impact of crime, and it's unacceptable."
Later in his career, Fliedner — currently the first-ever openly gay DA candidate in the country — became the Brooklyn DA's LGBT liaison to the city's police commissioner. It was in that role he got a firsthand look at the inadequate attention being paid to the LGBTQ community, and transgender women of color in particular, within the criminal justice system.
"I will be honest that there's the specific segment, trans women of color, that suffer the most," Fliedner said. "I heard day in and day out, I was in constant communication with the Anti-Violence Project and other partners who were seeing trans folks treated with extraordinary disrespect, in some cases with violence and in some cases with the most overt transphobia. And it's a real problem."
Fliedner's background helps him stand out among other candidates who are already left of the tough-on-crime players who once dominated New York prosecutorial races. In a sign of how successful the reform movement has become, candidates who might have previously touted their records of locking up criminals now point to their work in ending the era of mass incarceration.
Acting district attorney Eric Gonzalez, who took over after Thompson's death, is running on a platform of continuing and furthering Thompson's progressive agenda, which includes ending prosecutions for low-level drug offenses.
Candidate Anne Swern, who has worked in the DA's office and for Brooklyn Defender Services, is touting her experience on both sides of the justice system. Patricia Gatling is promoting her record as a former human rights commissioner and the state's deputy secretary for civil rights. Meanwhile, both Ama Dwimoh and Vincent Gentile have hammered incumbent Gonzales over his record on wrongful convictions.
For his part, Fliedner wears his principled departure as a badge of honor and criticizes his opponents for their relationships to interest groups that undermine their commitments to reform.
"[Gonzalez] is a man [who] is taking money from bail bonds companies while he's saying that he's for cash-bail reform," Fliedner said, referring to the movement among reformers to end the cash bail system that keeps low-income individuals imprisoned while awaiting trial. "He can't be ready to put the bail companies out of business like I am, or they wouldn't be supporting his desire to maintain the status quo."
The Gonzalez camp said that the contributions in question were returned and pointed to the candidate's "groundbreaking bail reform policy that recommends release without bail in the overwhelming majority of misdemeanor cases." A spokesperson also noted the support Gonzalez has received from progressive groups like Make the Road New York and VOCAL-NY.
Fliedner puts himself closer to the most outspoken reformers in the race, but said he's willing to go further than they are to achieve reform. Ultimately, Fliedner said he will stand out as the candidate who is actually accountable to the reform movement — even after the election.
"If you are going to come picket outside my office because you don't agree with the decision that I've made, I'm not going to punish you for that," Fliedner said. "I'm probably, to the degree that I can do it with moderate safety, [going to] shake your hand and gauge you and find out your point of view."
Aug. 28, 2017, 6:07 p.m.: This story has been updated.