How Kordale and Kaleb went from viral dads to burgeoning fashion icons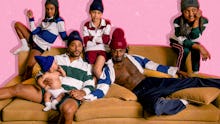 The love story between Kordale Lewis and Kaleb Anthony began in 2011, with a simple friend request. Anthony sent one to Lewis on Facebook, Lewis looked through Anthony's profile and then after a few phone conversations and Skype calls, the love story advanced beyond its meet-cute.
This quintessential 21st century love story became public fodder in 2013 when Lewis and Anthony set up a joint Instagram account, which shows their life as a couple with Lewis' three biological children from a previous relationship, Desmiray, Maliyah and Kordale Junior, and their new baby, Kaleb Junior, born in 2016.
In 2014, the family had their first viral moment, when they posted a picture of their morning routine, with Lewis and Anthony taming their two daughters' hair. The post quickly gained more than 54,000 likes and nearly 6,000 comments, and they were quickly deemed Instagram's "hot gay dads" across the internet.
The attention, according to Lewis was unexpected. "Me and Kaleb, like 99% of the time, when we're home, we're going to be hanging around with our shirts off," Lewis said said in an interview. "We get up, they get to school at 6:30. We're up by 5:30. I don't know why it went viral, but I guess the message behind it is that families come in all types of forms and fashions. It opened people's mind to understand folks with different kinds of families."
These days they've got more than 170,000 followers for whom they track the lives of their growing family. Asked about why so many people want to follow this family, Anthony thinks it's because people simply have never seen a couple — or family — like theirs.
"When you look online and you see gay couples, you see two white men," Anthony said. "You don't see two masculine black men. Yes, black masculine gay men do exist, and they can raise a family. They can have a white picket fence and a dog. It's like, yes, it exists."
After that moment in 2014, Lewis, 28, and Anthony, 29, said their lives didn't really change all that much. They still get up at 5:30 to get their kids ready for school. Lewis is a stay-at-home dad, while Anthony works as a senior analyst in Atlanta. They're just a family, trying to traverse internet fame while keeping the hopes and dreams of their growing family their first priority.
That is what attracted Acne Studios, the Sweden-based luxury fashion house. In August, the family went from a viral family to a viral fashion family, landing a campaign with Acne, with an accompanying photoshoot by Inez and Vinoodh, who frequently work with Vogue, and have shot everyone from Rihanna to Barack Obama.
"We were on our way to Orlando. And I checked my LinkedIn account and saw a message from someone who was scouting for Acne," Lewis said. "When she spoke to us, she was like, it's a company, they're interested in this. And we were like, yeah we'll do it! The kids had never been to New York! We'll do it."
When Lewis and Anthony first told the kids about the campaign, all they really said was that they'd all be going to New York City, which was enough to get them into it. "We said, 'We're going to New York to take pictures. Y'all wanna go?'" Lewis said. "The only two who didn't care was the baby and Kordale Junior. He doesn't care about anything but football and video games."
Once the family got to New York, the shoot was natural. They were just hanging out in their hotel room suite within a stone's throw of Central Park, the images relatively unposed. "So we get there and we're eating, and being a family, and then the photographers came in and were like, don't do anything, we're going to shoot you like this," Lewis said. "I was eating a burrito and the photographer looked at me, and was like, 'This is perfect. Don't touch anything.'"
The campaign made Lewis, Anthony and their family a part of history too, becoming the first black gay family to ever represent a high-end fashion brand. Although this was their first foray into high fashion modeling, the couple wants to do more — and they want to keep it a family affair. Their daughters, Desmiray and Mailyah, are both interested in modeling school, so shoots like this could help their daughters' careers.
"Desmiray wants to be a model, so yes I want to continue to build on my daughter's dream of being a model," Lewis said. "She can get some gig or get a magazine, that'd be great. And if we can get anything that can help them, we'll do it. We would love to have an agent. We'd love to continue to book campaigns. Our ideal campaign would be to do something with a certain automobile campaign during Christmas."
Keep an eye on Lewis, Anthony and their family.