9 hotel secrets that will get you room upgrades and other perks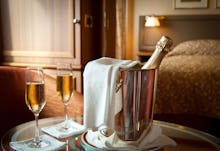 When it comes to hotel perks, the free mini-toiletries are only the beginning. In-the-know guests can score laundry service, late checkouts and other bonuses — as long as they know to ask.
You're paying a premium to stay at a hotel, so it's worth your while to reap all the possible benefits. And hotels aren't perfect: Sometimes the type of room you requested ends up being unavailable, or your next-door neighbor decides to blast music when you're trying to sleep. It's all about knowing who to talk to and what to ask for.
Before you go...
What to know about third-party sites
You might save a few bucks by using a hotel comparison site like Expedia, but hotels see when guests book through third-party sites and there could be consequences.
"The customers who book through Expedia, Priceline and Booking.com are the ones who will be displaced [first] if a hotel is overbooked," Nancy Novogrod, president and co-founder of Essentialist, a members-only travel planning agency, said in a phone interview. Novogrod explained that these sites provide "great rates" because rooms are often sold below their price, but guests booking online "won't get upgrades for the most part."
And a third-party site can't accommodate special needs like adjoining rooms. Give the hotel a call ahead of time to ensure they can accommodate you, Conde Nast Traveler noted.
Call ahead for early arrivals and late checkouts
Arranging your schedule based on check-in and checkout timing is somewhat of a given, but there can be some wiggle room. Communicating your arrival time in advance is key, Eric Walters, general manager of the Duniway, a Hilton-owned boutique hotel in Portland, Oregon, said in a phone interview.
"If [housekeeping] knows that a guest is coming ahead of time, you'll get on a list that gets first cleans, so there's a better chance that your room is ready when you arrive," he said. Walters added that if you have a conflict, like a meeting, that ends close to checkout time, it doesn't hurt to ask the hotel for a spare hour.
Know what you're entitled to
When you are checking in or before your stay, it's a smart idea to confirm what you're getting. "It's important for a traveler to have clarity," Brooke Lavery, owner of Local Foreigner, a Virtuoso travel agency, said in a phone interview. She noted that you should "confirm amenities" when you check in and always ask if there are perks most travelers are unaware of. "Sometimes a hotel will offer an unpacking service or butler service that's not visible unless you ask for it," she said.
And if you use a travel agent like Local Foreigner, you're in a position to enjoy additional amenities. Since travel agents have connections at high-end luxury hotels, Lavery said she's gotten clients upgrades, reductions on their room bill and complimentary breakfasts. Sometimes, hotels will provide her clients "a welcome amenity of sorts."
During your stay...
Use politeness (and cash) to score room upgrades
If you are requesting a room upgrade (and really, why not try?), there are a few insider tricks that can tip the scales in your favor.
"The things your mother taught you hold true. Be polite and enthusiastic," Novogrod said. "In general, being enthusiastic about where you're staying can do a lot," she noted. That said, Novogrod advised that it all depends on the specific hotel and how busy the front desk agent is. Put yourself in their shoes — they won't be willing (or able) to accommodate a request if a lot of other guests require attention.
According to Jacob Tomsky, a hospitality veteran and author of Heads in Beds, a memoir about working in hotels, attitude is everything. "The difference between requesting and demanding is big," he told Conde Nast Traveler. When visitors act like they deserve certain perks, hotel staffers will be "less inclined" to grant their wishes, Tomsky noted.
There are no magic words that will get you a good view or a bigger closet, but Tomsky said slipping the front desk agent a $10 or $20 bill can help. Be specific about whatever you want and say, "This is for you, if there's anything you can do, I'd appreciate it."
Bring issues up right away
If you're settled into your room and find something amiss or not to your liking, you can politely request a change. For example, you might request a new room if something, like the shower, malfunctions or if you want to be away from a noisy elevator bank.
"If you need to call more than once about an issue that is problematic, try to express understanding and patience while at the same time underscoring your need for attention and service," Novogrod said, explaining she once had noisy neighbors at a nice hotel in Italy that prevented her from sleeping.
Leverage the concierge for reservations...
If you want to secure a table at one of the hottest restaurants, your best bet is the concierge. "They have personal connections with the restaurants, box seats reserved for shows. They're available at a premium, but they're available," Tomsky told Conde Nast Traveler, noting you should tip at least $10 to the concierge.
The benefit of using a concierge for reservations? They'll communicate to the restaurant that you are a nice person, Tomsky said. And if you're staying at a fancy hotel, the concierge is more likely to be able to snag you a last-minute reservation at a hard-to-get-into restaurant, Forbes reported.
...or for drugs and entertainment.
In cities like Portland where marijuana is legal, a concierge can point you in the direction of a dispensary, Walters noted. "We do get a lot of requests," he said, explaining that staffers will oblige with local recommendations. (Do note, staffers won't go and buy drugs or paraphernalia for you.)
And of course, a concierge's job is to refer guests to restaurants, music venues and more. Some hotels have discount tickets — Dream Midtown in Manhattan offers guests up to 40% of Miss Saigon, a Broadway show. They also often hold an inventory of hard-to-get tickets: The Pulitzer Amsterdam has tickets for Rijksmuseum, the Dutch national museum, so guests can skip the line at the door.
You can also score savings by using hotel-affiliated transportation. Instead of renting a car to visit a popular attraction, look for a hotel provides a shuttle service. Between free transportation to Disneyland, local beaches or ski resorts, you won't need to drive or pay for parking.
Use the pressing services
It's no secret that most hotels have ironing boards and irons in each room, but you might be surprised to learn that some offer complimentary pressing services — which can come in handy on a long business trip. "It's one of those things you should ask about when you travel," Walters said. Dry cleaning typically comes at a cost, but some hotels, like the Monaco Denver, offer same-day service. Never head out the door with a wrinkly shirt again.
Have someone get you pantry staples
If you're staying at a hotel for an extended period of time, like a week, you can expect some extra perks — like staffers surprising you with a favorite breakfast cereal, Janis Milham, senior vice president for Marriott's Classic Select Brands, said in an email. (At Residence Inn, part of Select Brands, rooms and suites have kitchens and fridges.) Plus, you can get someone else to pick up your milk and eggs, too.
"Guests can take advantage of the brand's complimentary grocery shopping," Milham said. "The brand has seen an increase in guests taking advantage of this service and preparing their own meals in their en suite kitchens — keeping their routines healthy, even while on the road."