Gwynevere River Song is at least 17th transgender person killed this year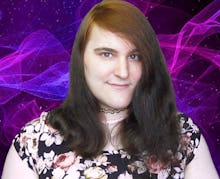 Gwynevere River Song, 26, became at least the 17th transgender person to be killed in 2017 after they were found dead earlier this month in their Waxahachie, Texas, home, according to the Advocate.
According to a report by the local news outlet Waxahachie Daily Light, which misgenders Song, officers from the Ellis County Sheriff's Office responded to a reported shooting and found Song dead and another adult injured in the home on Saturday, Aug. 12.
Song, a 2015 graduate of the University of Texas at Austin, identified as femandrogyne and bisexual, according an announcement from the Human Rights Campaign, which released a statement Thursday on Song's death.
Song used "they" pronouns, according to the Advocate. A memorial service for Song was held Monday in Waxahachie. According to a Facebook post by the Trans Pride Initiative, a trans advocacy group based in Dallas, about 50 people attended the service.
In a comment on the post, Song's mother, Marcy Mosher, wrote, "Thank you all for attending my beautiful daughter's memorial. I miss her beautiful soul every day. You have a dream and now I will pick up your torch and try my best to bring your dream come true ... I love you, my baby girl. Mom."