The best college bars in the US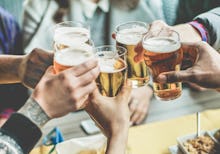 A good college education can't be had without many trips to the library — and, oftentimes, several to the local watering hole. College bars are sacred spots where thirsty 20-somethings can guzzle affordable drinks of dubious quality.
Mic asked Foursquare to analyze the most popular college bars in the U.S. These are bars that rate highly for keywords like "college bar," "dollar beer" and "beer pong." Whether you're a student, a visitor or nostalgic alum, here are the bars that earned bragging rights for being the best.
Let the good times roll (laissez les bons temps rouler if you're feeling French) at this dive bar near Tulane University. Reviewers on Foursquare praise The Boot's pub food, which includes delights like pizza and fries with cheese that probably taste divine after a few beverages.
Arizona State University students can be found by the dozen at this local eatery. This ASU institution has been around since 1986, and fans can find several other locations in Illinois and Arizona. The wings, nachos and raucous 10 p.m. karaoke get high praise from reviewers on Yelp.
Make no mistake, this bar near Purdue University is more renowned for its cheap drinks than for its chocolate. Legend has it that the bar called itself a chocolate shop during Prohibition to avoid suspicion. Harry's motto, "go ugly early," is supposed to be a code — the intention is for customers to do the exact opposite, which is "come pretty late" is an ode to covert, late night celebrations during Prohibition.
Since 1974, generations of Texas A&M students have gathered at Dixie Chicken, a bar that has a real rattlesnake in a cage by the pool table. From first dates to first kisses, this has been an iconic spot for budding romances — and stories abound about people meeting their spouses over spilled beer pitchers. Romantic!
There are multiple locations of Tavern in the Square (known as "TITS" among some locals), but the one in Allston near Boston University takes the cake as one of the best college bars in America. It's got food, local brews, big screens to watch sports — what else could you possibly want?
Phyrst in State College, Pennsylvania
Stop in at this watering hole if you're near Penn State and you want to catch some live tunes. Phyrst famously offers live music 365 days a year. You'll probably run into people celebrating their 21st (aka twenty-Phyrst) here — it's tradition.
Wondering what the vibe is at this joint? "Don't wear nice shoes," one reviewer wrote on Foursquare wrote in 2011. Noted. Beer pong tables outside and darts inside mean you can get competitive the next time you're out with friends.
Ohio State University students flock to this spot that has a rustic, hunting lodge vibe. Play in a beer pong tournament and sip on $2 pitchers for the full college experience.
Kam's in Champaign, Illinois
A drink called "Blue Guys" is the signature speciality here. You could order them in cans online these days, but you won't get to enjoy the quintessentially college ambiance at Kam's. (According to Reddit, a Blue Guy is a mix of blue energy drink and vodka.)
This spot resembles (and smells like) a frat house. But that doesn't stop throngs of Wisconsin students from ordering bottomless beers here. (Just $10 — what a steal.) Head here as early as 8 a.m. on game days and get half-off cheese curds during select hours.