Our Revolution president: "Democrats have lost their souls"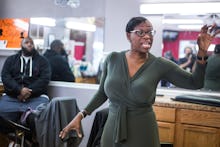 This is Mic's daily read on Donald Trump's America. Want to receive this as a daily email in your inbox? Subscribe here.
Every day, we bring you a different dispatch on Trump's America. Today's focus: The Sanders insurgency, a year later.
Thursday's dispatch: One year in, Our Revolution is just beginning its push to take over the Democratic party
"We changed the conversation regarding the possibilities of our country," Sen. Bernie Sanders (I-Vt.) told supporters of his presidential campaign one year ago today. And he vowed a new group, Our Revolution, would continue to change the conversation.
Today, the extension of Sanders' campaign says it has kept his promises by pressuring the Democratic establishment, continuing grassroots fundraising, organizing events, electing candidates and advancing progressives causes.
In an interview with Mic on the eve of Our Revolution's first "birthday," organization president Nina Turner said her group's focus on empowering 401 local chapters has paid dividends in a bid to transform the Democratic party.
Our Revolution endorsed 175 candidates in the past year, about 43% of whom won their races. The group facilitated more than 11,000 volunteer-led events. It supported the elections of seven state party chairs who are "progressive," Turner said.
"The message I want to hit home is it's driven by the grassroots," Turner said. "Every election should be driven by the grassroots, by the will of the people."
And she said that has consequences for establishment Democrats. Our Revolution's network of more than 200,000 individual contributors, who have given an average of $22, are demanding progressive candidates who support proposals like Medicare for all, free college and a $15 minimum wage.
In 2018, Democratic candidates who do not support Our Revolution's progressive agenda will not earn the group's endorsement, Turner said. And not only that. According to Turner, Our Revolution may go a step further, supporting primary challenges in 2018, if they emerge, against Democrats who don't run on a progressive platform.
"The grassroots make the decision" about who Our Revolution supports, Turner said. Primary challengers are emerging against establishment Democrats across the country, but they've yet to receive substantial organizing support. Our Revolution could change that.
In July, House Rep. Tim Ryan (D-Ohio), a potential presidential candidate in 2020, said it's a message that has the potential to hurt Democratic chances in competitive districts.
"If you want to really connect to people, you can't be hostile to business," Ryan said in an interview.
A recent example of the group bucking the establishment came earlier this week. The group backed Randall Woodfin in his bid against William Bell, the two-term mayor of Birmingham, Alabama, who has the support of the Democratic establishment.
Woodfin drew a larger share of the vote than Bell in Tuesday's election. They will head to a runoff election on Oct. 3.
Woodfin's victory, Turner said, is a result of his progressive politics. She criticized the Democratic "Better Deal" proposal as having "no energy." That platform is championed by Sen. Chuck Schumer (D-N.Y.) and Rep. Nancy Pelosi (D-Calif.), the Democratic leaders in the Senate and House.
"Some Democrats have lost their souls," Turner said. "I'm not gonna name any names, [but] the establishment wing ... [has] to decide if we're the party of corporations or the party of the people."
To make Democrats decide, Our Revolution introduced the "People's Platform" earlier this summer. A slate of progressive legislation introduced in the House, the full agenda is only officially supported by five Democratic members of Congress.
Sixteen House Democrats have joined one or more bills on the platform since Our Revolution began their push nearly a month ago. But while dozens of other Democrats support elements of the platform, there's no consensus that it's the path forward.
Turner is one of eight members on a Democratic National Committee commission to unify and transform the party. It has met three times since last summer and will again this weekend, Turner said. She hopes the groups recommends reform of the superdelegate system and support for progressive policies.
"We cannot be a centrist party," Turner said. "I have been critical of the Democratic party because I want it to do better. We have to give people something to vote for. We have to give a vision that inspires. People vote with their heart. Before it's in their head, it's in their heart."
Today's question: Should groups like Our Revolution only support Democratic candidates who are "progressive"? Or should it compromise to help Democrats win in more conservative districts?
Thursday in Trump's America:
The president retweeted a picture that showed him eclipsing former president Barack Obama. He also celebrated his ability to speak about Afghanistan and host a campaign-style rally.
CNN reported Trump's now deputy chief of staff was in communication with people last year looking to connect Trump aides with Russian President Vladimir Putin.
Trump is privately pushing Republican senators to not craft legislation that would restrict his options with Russia or protect special counsel Robert Mueller, Politico reported.
Before his rally in Arizona, Trump met with potential primary opponents of Sen. Jeff Flake (R-Ariz.), further deepening the rift between Trump and Senate Republican leaders.
Trump thinks "clean coal" is just coal that's been cleaned off. Here's what it actually is.
The American Civil Liberties Union struggled with its initial defense of white supremacists in Charlottesville, Virginia. And its approach has changed following the violence.
Trump's threat to shut down the federal government over funding for a border wall is not gaining traction in Congress.
The statue of Robert E. Lee in Charlottesville has been covered by a black shroud.
Fears of violence against journalists are growing in wake of Trump's Phoenix rally. And the editor of the Wall Street Journal rebuked his staff for its coverage of Trump.
Today's MicBite:
Trump has become an apologist for white supremacists. Mic's Aaron Morrison explains how.