The ACLU defends the free speech of white supremacists — but now wants Confederate monuments removed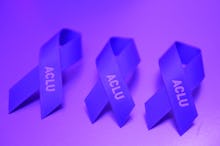 This is Mic's daily read on Donald Trump's America. Want to receive this as a daily email in your inbox? Subscribe here.
Every day, we bring you a dispatch on Trump's America. Today's focus: "Hate speech" vs. "free speech."
Friday's Dispatch: The ACLU joins the fight to bring down Confederate monuments
Nearly two weeks after violence in Charlottesville, Virginia, the top racial justice expert at the American Civil Liberties Union pulled no punches in his description of Confederate monuments. Jeffrey Robinson said these symbols, which Trump has defended as historical treasures, were built to perpetuate a lie that Southern leaders fought for liberty, not to protect slavery.
"When we do not deal with the ugly truth about our history, we have no chance of going forward in any kind of a productive way," Robinson said in a live broadcast Thursday night titled "When Heritage Equals Hate." "Getting rid of the Confederate monuments will ... make us deal with the truth."
Even as the national movement to remove Confederate monuments across the U.S. gains steam, more than 700 monuments still remain on public land. The push to do away with them, led by racial justice group Color of Change, has seen an explosion of support since far-right protesters gathered in Charlottesville to protest the removal of a statue of Confederate leader Robert E. Lee.
Since Charlottesville, there has been a 214% increase in the number of Confederate monuments torn down in 2017, for a total of 29 removed so far this year. There are at least another 35 removal movements underway, most of which began post-Charlottesville.
The ACLU is mobilizing its People Power activists, who number about 200,000, to sign petitions that call on elected officials to remove monuments. The group has used email and social media to make such demands.
Digital advocacy among progressives has driven hundreds of thousands of people to focus on removing monuments. MoveOn.org and Democracy for America have shared the Color of Change effort, while petitions on Change.org to remove monuments have collectively drawn more than 550,000 signatures. More than 33,000 people have signed a Color of Change petition calling for the removal of Confederate monuments from the United States Capitol.
"A lot of this is the education of people and learning, in their local communities, what has been done to preserve a heritage of hate," Faiz Shakir, the ACLU's national political director, said.
The push to support monument removal comes after the ACLU faced backlash from its members over defense of free speech of white supremacists. The ACLU announced it would no longer support groups that carry firearms to protests.
The ACLU's support of Color of Change is another public rebuke of the far-right groups. Shakir justified it as the ACLU supporting "free speech" but not "government speech" that promotes hate in the form of statues.
"We are always wary of those kind of free speech crackdowns, on even groups you hate, because that's how it starts," Shakir said. "Any crackdown, any deprivation of liberty against those [we hate] will impact all of us."
Arisha Hatch, Color of Change's managing director of campaigns, said she was thankful for the ACLU's support. But her organization views messaging from the far right as "hate speech," not "free speech."
"Obviously, we have a different theory of change than the ACLU," Hatch said. "[But their support] sends a message that they're in support of black civil rights leaders who are making these calls. They've been an incredibly important partner."
Today's question: Should speech that promotes white supremacy be protected by the First Amendment?
Friday in Trump's America:
President Donald Trump is preparing for Hurricane Harvey, a Category 3 storm, to potentially devastate the Texas coastline.
Trump is considering ending the program that allows undocumented immigrants who were brought to the U.S. as children to stay legally, Axios reported. That would affect about 750,000 people.
The president continues to hammer Senate Majority Leader Mitch McConnell (R-Ky.) on Twitter. He's also still criticizing the filibuster, which had no role in blocking the GOP health care reform bill from passing. And he's hitting Sen. Bob Corker (R-Tenn.).
Gary Cohn, Trump's top economic adviser, said the president must do more to condemn white supremacy.
White House Chief of Staff John Kelly reportedly wants to see all information before it reaches the president to control what gets to Trump.
Every county in the U.S. will have health insurance offered through an online Affordable Care Act marketplace.
A far-right rally is planned in San Francisco this Saturday. Rolling Stone has a deep dive into how grassroots groups are leading opposition to Trump.
The National Institutes of Health is the latest federal agency to scrub a reference to climate change.
Today's MicBite:
Direct from Mic's newsroom, stay current with a daily rundown of top stories, breaking news and analysis from our team. Subscribe on Apple Podcasts or wherever you get your podcasts.