Hurricane Harvey presents Trump with both a crucial test and a chance to reset his presidency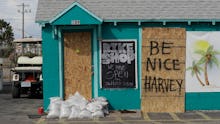 As Hurricane Harvey prepares to make landfall along the Texas coast, it will bring with it not only damaging winds and a potentially deadly storm search but also a test for President Donald Trump and his currently flailing presidency.
Natural disasters have historically presented an opportunity for a president to show leadership skills and call for unity as communities begin to clean up and rebuild. And Trump desperately needs another shot at demonstrating that ability after his widely condemned response to the white supremacist rally in Charlottesville, Virginia.
"There is an advantage to this moment," Matt Mackowiak, a Texas GOP strategist and chair of the Travis County Republican Party, said in an interview. "It does give him a real opportunity to demonstrate unifying, nonpartisan leadership for the country. If the public takes away from this that he's on the job, taking it seriously and setting politics aside, that will help."
For Barack Obama, experts say Hurricane Sandy — which pummeled the Northeast in the final days of the 2012 presidential election — could have been a deciding factor in his victory over then-GOP nominee Mitt Romney.
Obama's poll numbers rose in the days following Sandy, with nearly 80% of voters saying Obama did an "excellent" or "good" job responding to the disaster, according to an ABC News/Washington Post survey at the time.
But the mishandling of a disaster presents a perhaps more salient risk for presidents. President George W. Bush never fully recovered from the government's poor response and his own bad optics after Hurricane Katrina in 2005.
As images of human suffering in New Orleans blanketed television stations, with some survivors seen standing on rooftops begging for help from rescue workers, Bush chose to remain on vacation at his Texas ranch, and did not return to the White House until Aug. 31, 2005 — two days after the hurricane made landfall. His now infamous praise of disgraced Federal Emergency Management Agency Director Michael Brown haunted him in the last years of his presidency.
"Brownie, you're doing a heck of a job," Bush said of Brown, as victims of the hurricane suffered, some without water or food.
More than half of voters, or 54%, disapproved of the way Bush handled Katrina in 2005, according to an ABC News/Washington Post survey at the time, and Bush recorded what was the lowest approval rating of his presidency to that point. (His rating fell even further after the 2008 financial crisis.)
Mackowiak said Trump needs to be aware of those optics.
"Whether he wants to or not, he needs to be solely focused on this for the next few days," Mackowiak said of Trump, adding that his Friday morning tweet attacking Tennessee Republican Sen. Bob Corker was not helpful.
"[Trump] really needs to be kind of out of the picture," Mackowiak said. "He needs to be working the phones, getting briefed, talking to local and cabinet officials and providing as much as the federal government can."
Some Republican lawmakers issued that same warning to Trump.
Sen. Chuck Grassley (R-Iowa) told Trump to "keep on top of" Hurricane Harvey, and warned in a Friday morning tweet not to make the "same mistake" Bush made with Katrina in 2005.
Several hours later, Trump sent out a tweet, assuring Americans he was on the case.